Ex-Mumbai / Pune
Hill Stations
Khandala - Lonavala
Khandala - Lonavala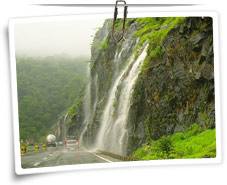 Renowned Twin Health Resorts With Spell-Binding Beauty
Visit Lonavala and Khandala and spend your holidays between cascading waterfalls during the monsoon, beautiful valleys, hills, milky waterfalls, lush greenery, and pleasant cool winds. These twin health resorts are gifted with outstanding scenic beauty of the hills surrounding them. Situated at a distance of 104 km from Mumbai and 66 km from Pune, both the destinations lie at an altitude of about 625 m. The hill stations, 5 km apart from each other, are situated on the western slopes of the Sahyadris.
Khandala is smaller and the quieter of the two. One can enjoy the most pleasant weather during the monsoon. Blessed with green hills, deep valleys, dense forests, lakes and cascading waterfalls, Lonavala and Khandala are ideal spots for sightseeing and other excursions. Long walks around the Pavna Lake, Lonavala Lake, Tungarli Lake, Valvan Lake on the Valvan Dam and Bushi Lake is the best way to explore the entire region. The hill sides are dotted with a number of ancient caves and forts of Shivaji's Maratha kingdom. Besides natural beauty, the place is visited for various historical monuments including the Rajmachi Fort, Manoranjan Fort, Shrivardhan fort, Visapur Fort, Lohagad Fort and the Tunga Fort.
Prime Attractions
Bhaja
The place is worth a visit for its impressive caves and monasteries. One can also gaze across to the majestic fort of Lohagarh or the forbidding heights of Vishapur from Bhaja.
Karla
It is one the most visited spot near Lonavala. Located 12 km from the main town, Karla is famous for the largest Chaitya caves in India, built in 80 B.C. These caves prove to have a few of the best-preserved Buddhist temples in India. The main attraction lies in their age old architecture. One can find lion pillars, huge elephant forms, carved images of Buddha and dancing couples inside these caves. The entrance gate is in the shape of a "Peepul" leaf.
Lonavala Lake
Rich in bio-diversity, this lake is also famous as 'Bushi Lake'. It flows one and a half km from the town and serves as a beautiful family picnic spot.
Bedsa
Bedsa, also famous for its ancient caves, lies north of the Pawan Dam. These caves have huge pillars, images of lions and humans, and many such architectural patterns. The main feature of Bedsa is an arched roof supported by 2,000 year old woodwork, which provides lighting to the entire cave.
Ryewood, Duke's Nose, Shivaji Park, Amruntanjan point, Kune Falls, Tiger's Leap and Monkey Hill are several other spots that are popular among tourists for their natural as well as architectural beauty.
Excursions
Lonavala-Khandala are known for various Yoga and Meditation centres. Being relatively quiet, these are perfect destinations for practicing meditation. Kaivalya Dham Yoga Center (founded by the Late Swami Kuvalayanand; near Valvan lake), Bhairavnath Deva Sthan (at Dhak, close to Lonavala), Antar Bharatiya Balgram (founded in 1966 to educate economically backward children) and Manashakti Kendra (at Varsoli near Lonavala on Mumbai-Pune Highway) are the major excursion centres.
Shopping
The specialty of these hill stations lies in delicious sweet peanuts, dry fruit chikki and jams.
Accommodation
Being a major weekend getaway and a renowned health resort, Lonavala as well as Khandala welcomes tourists throughout the year. MTDC runs its resorts at Karla and Rye Woods, Lonavala. Besides, one can also choose his/her desired type of budget/medium class hotel.
Accessibility
By Air
Pune (66 km) and Mumbai (104 km) are the nearest airports that are well connected to all the major parts of the country.
By Rail
Lonavala has a railway station, and all the trains from Mumbai to Pune and the South stop at this halt.
By Road
State Transport buses regularly ply from Mumbai and Pune. Besides one can hire private taxis as well for more comfortable journey.
Free Tour Customization
from Experts