North and Western India Hotels / Resorts
Gujarat
Gujarat Tour and Hotels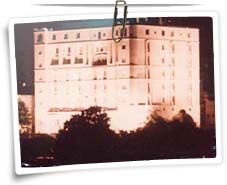 Vibrant, colorful, fascinating and culturally rich, such is the state of Gujarat. Located on the west coast, Gujarat takes immense pride in its glorious heritage. Diversity seems to be the trademark of Gujarat. The destination beckons tourists to explore its beautiful temples, sun-kissed beaches, enchanting wildlife sanctuaries, impressive historic places, national parks and great cities.
Gujarat houses numerous pilgrimage centers which are visited by people from across the county every year. In the past, the state was ruled by many a rulers who made their own individual contributions to the architectural beauty and development of the state.
Some of the famous cities with well known attractions in Gujarat are :
Ahmedabad- famous for Juma Masjid, Jhulta Minara, Bhadra Fort and famous Sabarmati ashram Surat- renowned for Silk saris and beautiful brocades.
Porobandar- known for Kirthi Mandir, Chowpatty, Sudama Mandir and Bharat Mandir.
Junagadh- famed for the Museum, Sakkarbag Zoo, Darbar Hill Museum, Gayatri Mandir, Sonapur- a place where many saint statues are erected.
Each and every city of Gujarat offers their own share of hotels, each having its own appeal. The hotels here win the hearts of tourists with their contemporary facilities and services. The luxurious hotels have beautiful and lavish interiors making the stay of guests pleasurable.
The fine dining experience and exciting recreational activities offered by the hotels make tourists come back again and again. Delicious culinary delights can be relished in the multi-cuisine restaurants of the hotels. For business purpose, the hotels offer well equipped conference rooms where meetings and seminars can be held without any hassles. Social gatherings can also be hosted in the well furnished meeting rooms.
Some of the known hotels in Gujarat are:
Hotel Inder Residency in Ahmedabad
Hotel Le Meridian in Ahmedabad
Hotel Cama Park Plaza in Ahmedabad
Comfort Inn Sunset in Ahmedabad
Quality Inn Rivera in Ahmedabad
Hotel Golden Plaza in Ahmedabad
Free Tour Customization
from Experts