Jammu Tour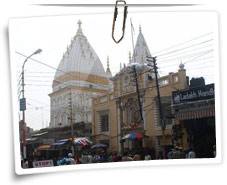 The City Of Temples
Enveloped in the peaceful and the blissful aura, Jammu is a great pilgrimage destination of the Hindus. Dotted with numerous temples, each having its own unique legend, Jammu is popularly known as the 'city of temples'. Jammu also has gurudwaras, dargahs and churches.
Some of The Main Attractions of Jammu
Vaishno Devi
This is the most important pilgrimage centers of Jammu visited by millions of devotees every year. The shrine of Vaishno Devi is dedicated to the Mother Goddess. The shrine is in the form of a cave and is located at a great height in the Trikuta Hills.
Peer Khoh
Peer Koth is a revered pilgrimage site located on the Circular Road in Jammu. The shrine of Peer Khoh is a cave with a self-manifested Shiv Lingam.
Ranbireshwar Temple
Dedicated to Lord Shiva, the Ranbireshwar temple was built by Maharaja Ranbir Singh in the year 1883. The sanctum sanctorum of the temple enshrines a 7.5 ft high central Shiva Lingam and twelve 15 cm high crystal Shiva Lingam.
Raghunath Temple
Built in 1860 in honor of Lord Rama, the Raghunath Temple is one of the main attractions of Jammu. The inner walls of the sanctum sanctorum are adorned with gold sheets on three sides. There are several other temples located near the Raghunath Temple.
Peer Baba
Peer Baba is an important Muslim pilgrimage site but is visited by the Hindus and the Sikhs also. It is the Dargah of a Muslim saint, Peer Budhan Ali Shah.
Ziarat Peer Mitha
Ziarat Peer Mitha is a mosque housing the tomb of Pir Ziarat, a saint who was popularly known as Peer Mitha.
Mahamaya Temple
It is an ancient temple offering picturesque views of the Tawi River. It is located behind Bahu Fort.
Protestant Church
Do visit the Protestant Church on the Wazarat road as it is the oldest church of Jammu. It has its own unique charm.
How To Reach Jammu
By Air
The nearest airport is in Jammu. The regular flights from here connect Jammu with the main cities of India.
By Rail
Jammu Tawi is the most important railway station of Jammu, which connects the state with all the major cities of the country by regular trains.
By Road
The state is efficiently connected to the major cities of India such as Delhi, Amritsar, Ambala, Ludhiana, Jalander, Pathankot, Shimla and Manali by a good network of roads.
Free Tour Customization
from Experts