Central India Wildlife Holidays
Panna
Panna National Park
The Excellent Destination For Wildlife Buffs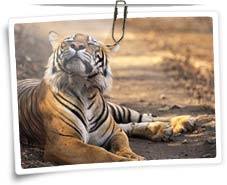 Does adventure for you means scanning wildlife destinations for sighting the wonderful and fascinating creatures of nature? Step into Panna National Park. Panna National Park is located in the beautiful state of Madhya Pradesh and one of the most famous tourist attraction located near the Park is Khajuraho(famous for its erotic sculptures). The Park covers an area of 543 sq km.
Best Time To Visit
Although the Park is open throughout the year but the most favorable time to visit it is from January to May.
Flora Of Panna National Park
Panna National Park has dry teak and dry mixed forests. The dry deciduous forests of the Park is interspersed with grassland areas. The riverines, grasslands and woodlands are the other parts of its topography. Some of the commonly found floral species in the Park are Tectona grandis, Diospyros melanoxylon, Madhuca indica, Buchnania latifolia, Anogeissus latifolia, Anogeissus pendula, Lannea coromandelica, Bosswelia serrata etc.
Fauna Of The Park
Mammals In The Park
The Panna National Park abounds in mesmerizing wildlife species like tiger, leopard, wild dog, wolf, hyaena, caracal, Sloth bear, sambar, chital, chowsingha, nilgai and chinkara.
Bird Species In The Park
The Park is a haven of around 200 species of birds, including the enchanting migratory birds. You can easily spot birds like white necked stork, bareheaded goose, honey Buuzzard, King vulture, Blossom headed Parakeet, Paradise flycatcher, Slaty headed and Scimitar babbler.
Reptiles In Panna National Park
Several kinds of snakes can be spotted in Panna National Park, including the python.
Another Attraction Of Panna National Park
Another attraction which attracts tourists to Panna National Park is its diamond mining industry. Pandav Falls and Rajgarh Palace are the other places in Panna, which are worth a visit.
How To Reach
By Air
Khajuraho is the nearest airport located at a distance of 30 km from the Park.
By Rail
The nearest railway station is Satna located at a distance of 90 km from the Park.
By Road
Panna is well connected to all the major cities of Madhya Pradesh by road.
Accommodation
Ken River Lodge is a famous jungle resort in Panna located near the Park. Both comfort and good facilities are offered at the resort. Several other hotels are also available around the Park.
Important Information
The timings for venturing into the Park are from 6:30 am to 10:30 am and 2:30 pm to 5:30 pm.
Park Entry Fee: Rs. 40 (Indians) & Rs. 500 (foreigners, including morning and afternoon safaris)
Jeep Rental: Rs. 1500/half day
Camera: Rs. 40 (still) & Rs. 200 (video)
Guide: Rs. 100/vehicle
Private Vehicle Entry: Rs. 150
Elephant Safari: Rs. 100 (Indians) & Rs. 600 (foreigners)
Night Safari: Rs. 1800/jeep (including entry fees).
Free Tour Customization
from Experts