North India Wildlife Holidays
Corbett
Corbett National Park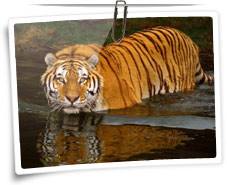 A Big Hit With Tourists!
Corbett National Park, the very word conjures up images of exotic wildlife and picturesque landscape. Rich in bio-diversity, this Park attracts wildlife buffs from across the world. Located in the enchanting Himalayan foothills in Uttaranchal, the Park is famous for tigers, leopards and crocodiles. The royal Bengal tiger is the major draw of the Park. Its foundation was laid in the year 1936 and later in 1973 it came under Project Tiger scheme. The Park is named after the famous author and wildlife conservationist Jim Corbett who played a significant role in establishing it.
Sprawling over 520 sq km, Corbett National Park is one of the oldest wildlife reserves in India. The diverse geographical features- wet and dry, plain and mountainous, gentle and rugged, forests and grasslands- make the Park a great attraction. And the beautiful rivers, streams and ridges criss -crossing its terrain add more charm to the Park.
Flora:
The Park boasts of more than 600 species of trees, shrubs, herbs, bamboos, grasses, climbers and ferns.
Fauna:
The Park is a home to a variety of animals such as tigers, leopard, sambar, deer, langur monkeys, wild boars, peacocks, spotted deer, crocodiles, Sloth and Himalayan Black bears, Indian Grey Mongoose, otters, yellow-throated martens,and wild elephants. The park is also a paradise of birds with more than 580 bird species, including both resident and migratory, residing here.
In the Park fishing is allowed at Pancheshwar, Ramgarh and Binsar with special permission from forest officials.
Getting Around:
For exploring the Park tourists can opt for Elephant safari or Jeep safari.
Best Time To Visit:
From November to June
Climate:
The temperature may vary from 5°C  to 30°C during the winter. Summer temperatures normally do not rise above 40°C .
Accommodation:
A variety of accommodation facilities are available within and outside the Park. To experience wilderness at its best you can choose to stay inside the Park.
How To Reach
By Air
The nearest airport is at Phoolbagh in Pantnagar. This domestic airport is 50 kilometers off Corbett.
By Rail
The nearest railhead is at Ramnagar. This railhead is connected to other major cities of North India.
By Road
Buses to the Corbett National Park are available from Delhi, Lucknow and Ramnagar. Several Delhi Transport Corporation (DTC) buses connect Delhi to Corbett National Park.
Free Tour Customization
from Experts