Kanchipuram Tour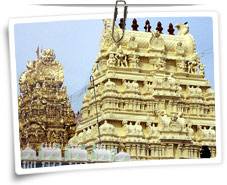 Dotted With Exquisitely Carved Temples
Known for its numerous fascinating temples, Kanchipuram is popularly known as the temple city of Tamil Nadu. Kanchipuram is held in high respect by the Hindus as it is an important pilgrimage center for them. It is also the seat of the great sage Shankaracharya. The town of Kanchipuram is also known for its silk saris. There are numerous captivating temples in Kanchipuram.
Some of The Main Attractions of Kanchipuram
Kamakshi Amman Temple
It is an intricately carved temple dedicated to Goddess Shakti. It is one of the most important pilgrimages of Kanchipuram. The temple was built by the rulers of the Chola Empire in the 14th century.
The Seat Of Sri Adi Sankara
The seat of Sri Adi Shankar in Kanchipuram is known as Kanchi Kamakotti Peetham. It is visited by thousands of devotees every year.
Sakkiswarar Temple
Another architectural gem in Kanchipuram, the Sakkiswarar temple is located in close vicinity of the Kamakshi Amman Temple.
Vaikuntha Perumal Temple
It is an ancient temple built during the reign of the Pallavas in the 7th century. The temple was built in honor of Lord Vishnu. One of the prominent attractions of the temple is the inscriptions depicting the battle between the Pallavas and the Chalukas.
Kailasanatha Temple
It is one of the most attractive temples in Kanchipuram, which was built in the 8th century.
Ekambareswarar Temple
Dedicated to Lord Shiva, the Ekambareshwar temple is one of the oldest temples in Kanchipuram. Initially its foundation was laid by the Pallavas and later it was given a face-lift by the Cholas. The most notable feature of the temple is its towering Rajagopuam (57 m), which is considered as one of the tallest towers in South India. The temple has eleven stories. Also noteworthy are its fabulous sculptures. The temple complex houses numerous shrines, mandapams, Gopurams and Tanks.
How To Reach Kanchipuram
By Air
The nearest airport is located at Chennai.
By Rail
Kanchipuram is easily accessible from Chennai, Chengalpattu, Tirupati and Bangalore by rail.
By Road
Kanchipuram is well connected to the main cities of South India by road.
Accommodation In Kanchipuram
A variety of hotels are easily available in Kanchipuram.
Shopping In Kanchipuram
Scan the bazaars of Kanchipuram for the wonderful handicrafts like silk saris, fruit baskets, candle stands, jewelry boxes and idols of gods and goddesses made in copper, bronze and brass. Shopping is a great experience in Kanchipuram.
Free Tour Customization
from Experts