Maharashtra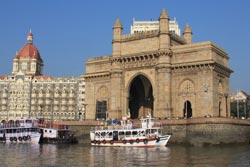 Maharashtra brings a beautiful contrast of attractions which lures travellers of all age groups and likes to this majestic Indian state. From the city of dreams Mumbai to some enchanting hill stations like Mahabaleshwar, Lonavala and Khandala, there is absolutely no dearth of temptations in Maharashtra. As the state lies on the coastal area, one can take the pleasure of some of the best beaches here. Maharashtra proudly boasts a rich history which is depicted in some of the most significant caves sprawling here. From Ajanta Ellora caves in Aurangabad to Elephanta and Kanheri caves in Mumbai and Pandavleni – one can walk down the memory lanes by visiting these masterpieces from history.
Here are the top places to visit in Maharashtra:
Aurangabad
Aurangabad is a culturally rich city of Maharashtra which is often termed as the tourism capital of the state. Aurangabad is housing the very popular Ajanta Caves which are one of the oldest UNESCO World Heritage Sites in India. These caves house a total of 29 rock-cut cave monuments raised in two distinct periods. Visitors can see some exceptionally stunning mural paintings and sculptures here narrating stories of Jatakas. Those visiting this city must also reserve some time to visit the Ellora Caves located only 28 km from Aurangabad. The complex houses 34 caves, including 12 Buddhist, 17 Hindu and 5 Jain Caves. The splendid architecture and beautiful presentation of the caves are outstanding.
Lonavala
Those planning a perfect weekend retreat often head to Lonavala located only 67 km from Pune. This stunning hill station is located at a height of 622 m and is nestling with Sahyadri Ranges. Apart from its awe-inspiring nature, one can spot numerous caves, lakes, forts and waterfalls here.
Mahabaleshwar
Another popular hill station of Maharashtra, Mahabaleshwar offers splendid vistas of sloppy peaks and surrounding woods. Visit here and unwind amidst ample of nature at its best.  Some of the main tourist attractions which can be spotted here include Pratapgarh Fort, Venna Lake, Mahabaleshwar Temple, Krishnabai Temple, Lingamala Falls, Tapola and Panchgani.
Mumbai
The city of dreams and dreamers, Mumbai has a rich history where it was a part of numerous empires, including the Maurya, Chalukya and Rashtrakuta. Being a historic city, one can see numerous caretakers of history here, including Gateway of India, Chhatrapati Shivaji Terminus (Victoria Terminus), Elephanta Caves, Kanheri Caves, Haji Ali Darga, Siddivinayaka Temple, Juhu Beach, Marve Beach and Marine Drive. The nightlife of Mumbai is also impressive and safe for women travellers.
Panchgani
Panchgani is conveniently located 18 km from Mahabaleshwa. Travellers visit here to spend some time away from busy city life. This serene town was used to be a summer resort of the British in 1860s. Today the town charms visitors with some of the best lures like Table Land, Parsi Point, Kamalgadh Fort, Devil's Kitchen, Rajpuri Caves, Sydney Point, Mapro Gardens and much more. One can also spot numerous British style old bungalows here which look extremely beautiful.
Pune
The second largest city in Maharashtra, Pune is known for housing impressive historical monuments from the Maratha period. Its richness can be seen by visiting attractions like Shanivar Wada, Sinhagad Fort, Osho Ashram, Dagdusheth Ganapathi, Pataleshwar Cave Temple, Rajiv Gandhi Zoological Park and much more each of which has a different story to tell. Pune is rightly called the cultural capital of Maharashtra as one can spot numerous classical music, spirituality, theatre, sports, and literature performances happening here every now and then.
Shirdi
One of the holiest places in India, Shirdi is renowned for the shrine of Shirdi Sai Baba. Every year streams of pilgrims visit here to seek blessings of Sai Baba who earned respect due to his selfless love and dedication to the poor. The temple complex covers an area of about 200 square meters and houses numerous majestic temples, including Gurusthan, Samadhi Mandir, Dwarkamai, Chavadi and Lendi Baug.
Kohlapur
Located on the banks of the river Panchaganga, Kohlapur presents a combination of natural beauty and history. The Mahalakshmi Temple here belongs to the 7th century and presents diverse styles of architecture. Jyotiba Temple is another spectacular temple dedicated to Lord Jyotiba who is believed to be an Avatar of Lord Shiva. To spend some serene moments, visit Rankala Lake, a historic lake belonging to 1800s. Chhatrapati Sahu Museum of Kohlapur also looks architecturally dramatic and exhibits a range of jewels, stone carvings and war artefacts.
Food
Maharashtrian cuisine often surprises visitors with endless flavours. Vada Pav ((Potato filled cutlets with Buns) remains the most popular snack item followed by Misal (a spicy gravy of pulses garnished with onions). Being a coastal state, it is also known for Bombil or Bombay duck served with a flavour of lime juice and onions. Pav Bhaji can also be savoured while strolling around the beautiful beaches of the state. If you have a sweet tooth then do not miss Puran Poli, a sweet version of paranthas. Other than this, Sreekhand (sweet yoghurt dish) is also loved by every local and is made on all special occasions.
Shopping
One can get numerous options to pick from in Maharashtra. From high end shopping malls to small street markets, shopaholics can have a great time shopping here. Those visiting Mumbai must check out Chor Bazaar, Mutton Street and Zaveri Bazar for picking great stuff at knock down prices.  For some up-market shops, visit shopping arcades of lavish hotels like Oberoi and Taj. Aurangabad is known for selling himroo shawls, mashroo and kimkhab weaves. A shopping spree in Pune is also same as that of Mumbai. You can pick Maharashtrian traditional wares apart from traditional jewellery. For some authentic cotton textiles, Kolhapur is the right place. Leather sandals or Kolhapuri chappals here also remain a must buy.
How to Reach
Chhatrapati Shivaji International Airport is one major international airport in Maharashtra. The airports of Nagpur and Pune also operate a few international flights apart from domestic ones. The largest railway station of Maharashtra is known as the Chhatrapati Shivaji Terminus, located in Mumbai. The station is well connected to all the parts of the country. Those travelling by road can visit Maharashtra with great ease as there are a number of National Highways and State Highways crisscrossing the state.
Free Tour Customization
from Experts