Himachal Pradesh
Chamunda Devi
Chamunda Devi Temple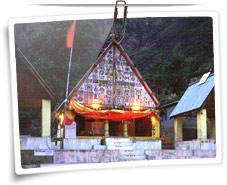 Set amidst the captivating scenic beauty of the state of Himachal Pradesh, Chamunda Devi Temple is a highly revered pilgrimage of the Hindus. It is located on the banks of River Baner in the Kangra district of Himachal Pradesh. Built in the 16th century, the temple is consecrated to Goddess Chamunda, a form of  Goddess Durga. The term Chamunda was derived from two words, 'Chanda' and 'Munda'. It is believed that Shiva and Shakti reside in the temple because of which the temple is also known as 'Chamunda Nandikeshwar Dham'. 
The legend associated with the Chamunda Devi Temple goes that the Goddess Durga formed a goddess with her power and asked her to kill the two demons named Chanda and Munda. Using her sheer power, the goddess fought with the two demons at the place where the temple stands proudly today and finally killed them. This made Goddess Durga happy and she blessed the Goddess that she would be worshiped as Chamunda Devi.
The Temple of Chamunda Devi has a simple architectural style but the aura of the place is truly blissful. In the main shrine the idol of the Chamunda Devi has images of Lord Bhairav and Lord Hanuman on its sides. It is believed that the two lords are the guards of Chamunda Devi. The idol of the goddess is beautifully dressed. Inside the temple visitors can also see the small footsteps of the Goddess on a stone. Located near the main shrine is a cave housing a Shiva Lingam. After visiting the Chamunda Devi Temple, devotees come to this cave to take blessing of the Lord also.
The
festival of Navratras
are celebrated with great joy at Chamunda Devi Temple. During the festival many a devotee come to the temple from across the country. The temple complex houses a water tank where the devotees take a dip. There is also a
handicraft center within the temple complex
where amazing handicrafts such as woodcarvings, wooden toys, black pottery, honey, Kangra tea and Kangra paintings are available.
Free Tour Customization
from Experts