South India Wildlife Holidays
Bandipur
Bandipur National Park
A Destination Where Every Second Is Worthwhile!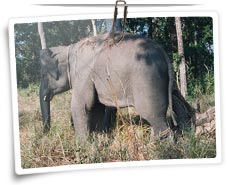 For an overwhelming wildlife treat, visit Bandipur National Park, which is one of the most famous wildlife destinations of India. Wildlife buffs from across the globe come here to experience its wilderness. Also a Project Tiger Reserve, the Park is under consideration by the UNESCO World Heritage committee for selection as a World Heritage Site. The biggest draw of the Park are its Bengal tigers( around 70 in number) and Indian elephants( around three thousand).
Bandipur is a part of the Nilgiri Biosphere Reserve. Located in the Chamarajanagar district of southern Karnataka in South India, the Park supports a rich variety of flora and fauna. The rivers Kabini, Nagur and Moyar flow through the Park adding more charm to it. It is dotted with several species of valuable timber trees, flowering and fruiting trees and shrubs.
Wildlife inside the Park
The Park provides shelter to a wide variety of wildlife such as Tiger, Leopard, Sloth Bear, Chevrotain, Dhole and Hyena, Gaur, Sambar (deer), Chital, Wild boar, Barking deer and Four-horned Antelope.
Threatened species inside the Park:
Tiger, Four horned Antelope, Gaur, Elephant, Panther, Sloth Bear, Crocodiles, Mouse deer, Python, and Osprey.
Avian Species:
If you have inclination towards bird watching, then Bandipur is a delight. Beautiful and colorful birds such as Grey Junglefowl, Pompadour Green Pigeon, Honey Buzzard, Red-headed Vulture, Grey-headed Fish Eagle, Brown Hawk Owl, Bay Owl, Malabar Trogon, Nilgiri Flycatcher, Malabar Pied Hornbill, Little Spiderhunter, Peacock, Plain Flowerpecker and Woolly-necked Stork are spotted here.
Reptiles
King Cobra, Common Cobra, Python, Adder, Viper, Rat Snake, Water Snake, Marsh Crocodile, Lizard, Chameleon, Monitor Lizard, Frog, Tree frog, Toad and Tortoise are some of the reptiles found here.
Getting Around in the Park
Both Jeep safari and elephant safari are offered by the Park.
Best Time To Visit
From April to October
Accommodation
The government of Karnataka provides decent and comfortable accommodation at Bandipur National Park. A variety of accommodation options are available outside the Park too.
How To Reach
By Air
Bangalore is the nearest airport (220 km) from Bandipur.
By Rail
The nearest railway station is at Mysore which is only 80 kilometers from Bandipur.
By Road
Bandipur is connected to Bangalore, Ooty and Mysore through a well-developed network of buses. Private taxis to the park are available from Mysore and Ooty, both 80 kilometers from Bandipur.
Free Tour Customization
from Experts