South India Wildlife Holidays
Mudhumalai
Mudhumalai Wildlife Tour
Drunk On Wildlife- Come To Mudumalai!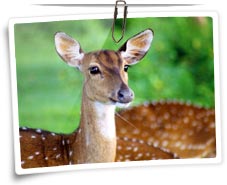 Nestled in the picturesque surroundings, holding a treasure of wildlife and famed the world over. That's Mudumalai Wildlife Sanctuary. It occupies a prized place on the list of India Wildlife destinations. Surrounded by beautiful hills, the Sanctuary is located on the northwestern side of the Nilgiri Hills (Blue Mountains) in Nilgiri district of enchanting Tamil Nadu. The charm of this Park attracts tourists from all over the world. It is one of the finest wildlife sanctuaries of India. It is a part of the Nilgiri Biosphere Reserve.
Covering an area of 321 sq km, the Park is also a Tiger Reserve. The Park is divided into five zones- Masinagudi, Thepakadu, Mudumalai, Kargudi and Nellakota.
Wildlife Inside the Park
The Mammals:
Asian elephant, Tiger, Leopard, Gaur, Hyena, Jackal, Sloth Bear, Sambar, Chital, Muntjac, Mouse Deer, Wild Boar, Stripe-necked Mongoose, Nilgiri Tahr (adjoining areas), Porcupine, Giant Flying Squirrel, Bonner Macaque, Barking Deer, Four-horned Antelope, Otter and Langurs.
The Birds:
Attracting bird lovers from far and wide the Park provides shelter to over 200 birds species, including some endangered ones. The major birds found in the Mudumalai Wildlife Sanctuary include the Crested Hawk Eagles, Crested Serpent Eagle, Malabar Trogon, Malabar Whistling Thrush, Large Racket-Tailed Drongos, Spotted Babbler, Green Pigeons, Brown Dove, Malabar Grey Hornbill, Parakeets, Bulbuls, Cuckoos, Hornbills, Scops Owl, Tiny-eared Owl, Black Woodpecker, Mynas, Barbets, Buzzards, Harriers, Falcons and the King Vulture.
The Reptiles:
Crocodiles, Pythons, Common Krait, Bamboo Pit Snake, turtles, frogs and amphibians are some of the reptiles found here.
Best Time To Visit
From October to February
Accommodation
The Forest Department maintains several cottages inside the Forest. If you wish to stay there, then you have to make your bookings in advance. Accommodation around the Sanctuary is also available.
How To Reach
By Air
Coimbatore is the nearest airport, 161 km off Mudumalai.
By Rail
Udhagamandalam (65 km) and Mysore (95 km) are the nearest railway stations.
By Road
Mudumalai National Park is easily accessible from the major cities of Tamil Nadu.
Free Tour Customization
from Experts