Kerala Backwater Houseboat Cruise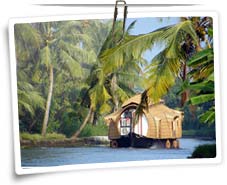 Showcasing The Best Of Green Kerala
Included in 1001 attractions of the world, the backwaters of Kerala are the best means to have a glimpse of all the beautiful secrets, daily village activities of remote Kerala villages and the typical cool Kerala tranquility. Plan a trip to Kerala and enjoy the world's best backwater cruises. Explore deep lagoons, canals and lakes that form the vast network of Kerala backwaters. These backwaters are fed by the vast network of 44 rivers of the state. While cruising through these dazzling freshwater lakes, streams, lagoons and canals, one can hear little natural sounds that blend into the quite hush of the lovely greens.
These backwaters are best suited for relaxing holidays in India. They offer wonderful views of the half-submerged paddy fields interposed with lush coconut trees, thick leafy green bushes, flowering shrubs and twittering birds.
Houseboats
Huge boats with about 60 to 70 feet length and around 15 feet of width in the middle are the perfect means of boating/cruising on Kerala backwaters. Kerala houseboats are locally referred to as Kettuvalloms. These were initially used as cargo boats. The merchants used to carry the local large grain 'red' rice, and inexpensive spices - coriander, ginger, dried chillies, turmeric, and black mustard seeds in these boats.
Presently, these are used by the tourists to spend their vacations on waters. Each houseboat or Kettuvallom is equipped with luxurious comforts like bedrooms, sitting areas, sun decks, fireproof kitchens, fuel storage, cooks, outboard engines and large poles for oars. Constructed by eco-friendly materials like bamboo mat, Arecanut trees and coir, the boat moves by an out board engine of 25 HP, which do not make much noise.
Prime Destinations For Backwater Cruising
The entire state of Kerala is fed with rivers, lakes and canals. But places like Kumarakom, Alappuzha, Kottayam, Quilon, Mararikulam, Kollam and Thiruvallam are the most frequented places for the wonderful experience of backwater cruise. Vembanad Lake, the largest of the lakes in Kerala (covering an area of 200 sq km) is another prominent waterway for cruising. It is bordered by Alleppey, Kottayam and Ernakulam districts.
These houseboats sail alongside the ancient villages of Kerala and offer marvellous views of the coir industries, tea shops, paddy fields, temples, and beaches till sunset. A backwater cruise along the palm-fringed waterways of Kerala in a luxury houseboat is one of the most enchanting holiday experience in India.
Free Tour Customization
from Experts