Himachal Pradesh
Dharamshala / Mecleodganj
Dharamshala / Mecleodganj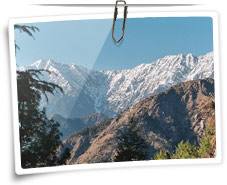 The Holy Land
Dharamshala, the land blessed with pristine beauty, is famous as the seat of His Holiness, the 14th Dalai Lama, the renowned Buddhist saint. Both the spiritual significance and the natural beauty of Dharamshala are the feathers in its cap. It attracts tourists from across the world. Located at the foothills of the fascinating Dhauladhar mountain range, Dharmshala is divided into the Upper Dharamshala or Mcleodganj and the Lower Dharamshala(the commercial center). Mcleodganj is around 9 km from the Lower Dharamshala. Majority of the population of Dharamshala consists of Tibetans. Dharamshal is one of the most important pilgrimages of the Tibetan Buddhists. Dharamshala is popularly known as the 'Scotland of the East'.
Attractions of Dharamshala
Tourists can explore a lot of things in Dharamshala such as the rolling hills, mesmerizing rivers and streams, ancient temples and pagoda-shaped monasteries.
Namgyal Monastery
Built by Sonam Gyasto, the third Dalai Lama in the year 1575, the Namgyal Monastery is housed by the Buddhist monks and Lamas. They learn and practice the Buddhist teachings here. The monastery complex encompasses an institute and small temples.
Bhagsunath Temple
Located 11 km from Dharamshala, the Bhagsunath Temple is an ancient temple, which attracts many a devotee. The fresh water springs near the temple are considered holy by devotees.
Tatwani
Tatwani is the place known for its hot water springs situated at a distance of 25 km Dharamshala.
Kunal Pathri
This place is a must-visit destination near Dharamshala as it has amazing rock temples.
Chinmaya Tapovan
Chinmaya Tapovan is a beautiful ashram housing a 9 m high idol of Lord Hanuman, the Ram Temple, a meditation hall, a school and a health center.
Rewalsar
Situated near Dharmshala, Rewalsar is a home to the cave temple of the great Indian Tantrik Guru Padmasambhava.
Kangra Art Museum
Exhibiting the Kangra valley's cultural heritage in the form of various arts and crafts dating back to the 5th century, Kangra Art Museum is an important attraction of Dharamshala. A gallery in the museum shocases the miniature paintings, sculptures, pottery and anthropological items.
How To Reach
By Air
The nearest airport is located at Gaggla, 13 km from Dharamshala.
By Rail
Pathankot is the nearest railway station, 85 km from Dharamshala.
By Road
Dharamshala is easily accessible from all the parts of Himachal Pradesh.
Accommodation In Dharmshala
Accommodation is not an issue in Dharmshala. A variety of hotels are available to choose from. There are many hotels in Dharamshala catering to the different needs of different tourists.
Free Tour Customization
from Experts