Uttar Pradesh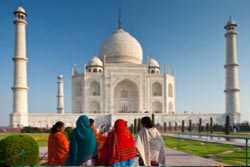 Rightly called the 'Heartland of India', Uttar Pradesh is known for boasting a flamboyant cultural heritage. It is a land of rich historical tales, it is a land of varied hues of cultures blending together, it is a land of diverse religions, and it is a land of delectable mix of aromatic food.  Uttar Pradesh is home to some of the most astonishing monuments of history which put even the most modern skyscrapers to shame. Travelling through Uttar Pradesh is like travelling through the most pleasurable charms of India which make this country Incredible India.
Here are the top places to visit in Uttar Pradesh:
Agra
Home to the majestic Taj Mahal, Agra has earned great popularity worldwide. It is known for housing the best wonders belonging to the Mughal Era. The inevitable Taj Mahal remains its most astonishing gem which represents true love. Taj Mahal was built by Shah Jahan, a Mughal emperor, in memory of his beloved wife, Mumtaz Mahal. Its architecture is breathtaking in white marble and it has earned its position among the Seven Wonders of the World. Agra Fort of Agra also looks majestic with its fortified walls representing Mughal's grandeur. Its architectural brilliance is unmatched and it houses some brilliantly designed        palaces, including Jahangir Palace, Khas Mahal, etc. Another place in Agra is Fatehpur Sikri built by Akbar in 1570. One needs to see this masterpiece to understand its mix of of Indian, Islamic and Persian architecture. Some of the most explored attractions of Fatehpur Sikri are Buland Darwaza, Birbal's House, Panch Mahal and Jama Masjid.
Lucknow
The city of Nawabs, Lucknow still has an old world charm. It was once under the rule of the Nawabs of Awadh who left a deep impact on it. Bara Imambara of Lucknow is a splendid shrine raised by the Nawab Asaf-ud-daula in 1784. The complex houses the Asfi mosque with the tomb of Asaf-ud-daula. Chota Imambara is another must visit place here which was built in 1838. Outside the main complex there is the 4 storied Satkhanda, an incomplete watchtower.  British Residency of Lucknow is a National Monument which was a significant site of the historic battle called the Seige of Lucknow. It still bears marks of that fierce battle till date.
Varanasi
The only thought of Varanasi conjures the images of serene ghats, a ride on the pristine Ganga River and thousands of temple bells ringing in the background. Assi Ghat remains a must visit place here where numerous pilgrims can be seen indulging in rituals. All popular festivities of the state are celebrated at Assi Ghat only. Dashashwamedh Ghat also brings out the beliefs of the locals of Varanasi. It is believed that Lord Brahma sacrificed 10 horses in a yajna here. Kashi Vishwanath Temple, the only Jyotirlinga in Uttar Pradesh, remains a popular temple of the city. The temple is dedicated to Lord Shiva and is surrounded by numerous smaller shrines. Apart from these, Durga Temple, Gyan Vapi Well, Ramnagar Fort & Museum and Chunar Fort are other popular tourist places in the city of Varanasi.
Allahabad
Known for its merger of rivers and the Kumbh Mela, Allahabad is home to many popular buildings belonging to the British era. The city experiences Triveni Sangam which means merger of three holy rivers of India, including Ganges, Yamuna and Saraswati. This merger point remains a major site of the Kumbha mela. History seekers must visit the Allahabad Fort built by the great emperor Ashoka. The fort features watchtowers guarding 3 galleries. Its architecture is highly impressive and it holds a rich history close to its heart. Khusro Bagh is another popular attraction which is a walled garden housing three mausoleums built in Mughal style. 
Vrindavan
One of the most popular religious places in India, Vrindavan is the place where Lord Krishna spent his childhood days. The Hare Rama Hare Krishna Temple here remains flooding with pilgrims lost in the chanting of songs devoted to Lord Krishna. Bankey Bihari Temple is another must visit temple built in 1862 by Swami Haridas. It houses a beautiful idol of Lord Krishna and looks extremely beautiful especially during the festival of Krishna Janmashtami.
Sarnath
A major historical site in Uttar Pradesh, Sarnath is the place where Gautam Buddha first taught the teachings of Dharma after attaining enlightenment.  The Dhamekh Stupa here was built in 500 AD and stands 43.6 meters high with a diameter of 28 meters.   The stone carvings and sculptures here were made by Gupta artisans which is truly a sight to behold. Chaukhandi Stupa is another Buddhist stupa in an octagonal shape. Sarnath Archaeological Museum is another historical museum exhibiting the popular Lion Capital of Ashoka. The exhibits of the museum date between 3rd century BC and 12th century AD.
Mathura
Known as the birthplace of Lord Krishna, Mathura holds great importance among Hindu devotees. The city has numerous ghats and uncountable temples which bestow great pleasure. Krishna Janma Bhoomi Mandi is the most popular temple here which is believed to be the place where Lord Krishna was born. Dwarkadhish Temple of Mathura also sees numerous devotees of Lord Krishna. Devotees can also be seen taking holy dip in the Radha Kund which is believed to be the place where Lord Krishna hit the earth which resulted in a stream of water.
Food
Cuisine of Uttar Pradesh includes both vegetarian and non-vegetarian dishes. As this is a huge state with numerous cities, one can find a mixed variety in their food too. Start with Banarsi food known for its simple taste and beautiful presentation. Enjoy kachauris, jalebis and samosa. Awadhi food is extremely popular which takes you back into the era of Nawabs. Try Seekh Kebab, Tunde ke Kabab and Shami Kebab which can make anyone fall for gluttony. Mughlai food is also loved by every visitor which includes lavishly prepared dishes like Kundan Kaliya (mutton cooked with rich gravy), Shami Kabab (mince meat), Kakori Kabab (mince meat on skewers), Gulnaar Kababs (chicken cooked in tomatoes and spices), etc. When it comes to sweets, do not miss savouring the taste of petha from Agra and khurchan from Mathura.
Shopping
Shopping in Uttar Pradesh is a delightful experience. The state is known for its rich collection of handicrafts. Stone carvings of Mathura and Varanasi remain must buy souvenirs. If you are visiting Varanasi, be ready to buy some rich looking banarsi saris in silk. Lucknow has a speciality in Chikan embroidery which can be seen in various fabrics, suits, saris and other garments sold here. Those visiting Agra can pick from a range of handicraft items, leather goods and stone ware. Moradabad also remains popular among shoppers looking for authentic brassware and metalware items.
How to Reach
The state houses four domestic airports at Lucknow, Agra, Kanpur and Varanasi connecting to all other major cities of India. Railways is perhaps the best way to reach the state as has a great railway network with junctions in Agra, Kanpur, Faizabad, Allahabad, Mughal Sarai, etc. Road connectivity in Uttar Pradesh is also good as one can find numerous state and private roadways buses.
Free Tour Customization
from Experts