Badrinath Yatra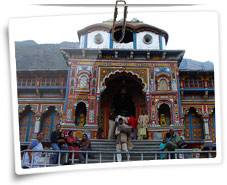 Badrinath, the seat of Lord Vishnu, is one of pilgrimage sites of the Char Dham Yatra. It is considered the most important out of the four Dhams namely Gangotri, Yamunotri, Badrinath and Kedarnath. Located on the banks of the river Alaknanda, Badrinath, the sacred town, is situated in the Chamoli district of the state of Uttaranchal. It is sandwiched between the majestic Nar and Narayan mountain ranges. With mesmerizing Neelkanth mountains as the backdrop, Badrinath is visited by tourists from far and wide in great numbers.
In the ancient times there was a great sage named Adi Shankara, who laid the foundation of Badrinath as the pilgrimage center. The word Badrinath was formed from two words: badri meaning a berry(it is a Sanskrit word for Indian Jujube tree) and nath meaning Lord Vishnu. According to the legend the Goddess Lakshmi took the form of the berries to provide sustenance to Lord Vishnu during his long penance in the Himalayas.
Attractions of Badrinath
Shri Badrinath Temple
Dedicated to Lord Vishnu, Shri Badrinathji Temple is located at an elevation of 3,133 m. It was built by the sage Adi Shankara in the 8th century. The temple has been renovated many a time. Resembling a Buddhist vihara in architecture, the temple is famous for its amazing carvings.
Panch(five) Badris
There are five badri shrines in Badrinath, including the Badrinath temple. The other four Badri temples are:Yogadhyan Badri , Bhavishya Badri, Bridha Badri or the 'Old Badri' and Adi Badri. The Adi Badri temple complex encompasses 16 small shrines, which are known for their exquisite carvings.
Joshinath
Located 44 km from Badrinath, Joshinath is one of the four 'maths' established by the sage Adi Shankara. It is believed that it is the winter home of Shri Badrinathji.
Valley of Flowers
It is a captivating valley dotted with colorful flowers, offering picture-perfect views of nature. The best time to visit the valley is from July to August.
Lok-Pal Hemkund
It is the place where the famous Hemkund Sahib Gurudwara is located. Located near the Gurudwara is the Hemkund Lake hemmed in by fascinating mountain peaks.
Adventure
Badrinath is a superb place for trekking. Its trekking routes not only offer adventure but also sheer scenic beauty.
How To Reach
By Air
Jelly Grant is the nearest airport located at a distance of 315 km.
By Rail
The two nearest railway stations are at Rishikesh(297 km) and Kotdwara(327 km).
By Road
Badrinath is easily accessible from places like Rishikesh, Haridwar, Dehradun, Kotdwara etc by road.
Accommodation
Badrinath offers several accommodation options such as dharamshalas, tourist rest houses, private hotels and temple committee guest house. Non-vegetarian food and alcohol are not allowed in Badrinath.
Free Tour Customization
from Experts