Guruwayur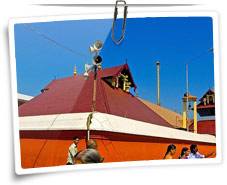 Guruvayoor occupies an important place on the map of Kerala. It is one of he famous pilgrimage center having a rich cultural heritage. For its sanctity, it is popularly known as 'Dwarka of the South'. Guruvayoor is a holy town located in the Thrissur district of Kerala. Devotees from across the globe come to Guruvayoor to take blessings of the heavenly deities at its famous Guruvayoor Temple. It is believed that by offering prayers at this shrine, one can get rid of any health problem. Guruvayoor is also known as Bhoolokavaikunta, meaning 'heaven on earth'.
Attractions of Guruvayoor
Guruvayoor Kshethram Temple
Held in high respect, the Guruvayoor Kshethram Temple is dedicated to Lord Krishna. Here the Lord is also worshiped as Balgopal(the child form of the Lord). The shrine houses a beautiful idol of Lord Krishna in a standing posture. According to the legend associated with the temple, the idol of the Lord in the temple was worshiped by Lord Brahma himself at the sacred city of Dwarka in Gujarat. Later the idol of the Lord was installed in Guruvayoor by the Guru Brahspati(teacher of gods) and Vayu(god of winds). Reflecting the rich culture of Kerala, the temple leave the visitors in awe by its fascinating paintings, nakkashi and murals, which depict the life stages of Lord Krishna. The temple serves as the venue for the celebration of numerous festivals such as Chingam, Kanni, Thulam, Vrishchikam, Dhanu, Makaram, Kumbham, Meenam, Medam, Edavam, Mithunam and Karkitakam.
Elephant Sanctuary
Tourists can also visit the Elephant Sanctuary located at a distance of 3 km from the temple. Sprawling over an area of 10 acres, the sanctuary is a home to around 60 elephants.
Gokulam And Vrindavanam Estate
Located at a distance of 55 km from Guruvayoor, the Gokulam And Vrindavanam Estate is famous for the cultivation of high quality coconuts, cashew and Palm. There is a plot called Gokulam within the boundary of this estate which houses around 550 cows.
How To Reach
By Air
The nearest airport is the Cochin International Airport located at adistance of 80 km from Guruvayoor.
By Rail
There is a railway station at Guruvayoor, which connects it to almost all the major cities of Kerala.
By Raod
Guruvayoor is easily accessible from the major cities of the country.
Best Time To Visit
From October to March
Accommodation
Guruvayoor offers accommodation options for all types of budgets.
Free Tour Customization
from Experts