Himachal Pradesh
Chintpurni
Chintpurni Temple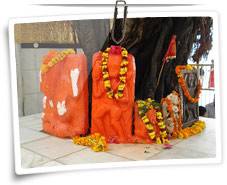 Enveloped in sheer scenic beauty, Chintpurni Temple is located in Chintpurni village of Una district in Himachal Pradesh. The temple is dedicated to Goddess Chintpurni who is also known as Mata Shri Chhinnamastika Devi. The term Chhinnamastika means 'without the head'. It is believed that if you visit the temple with deep faith in the goddess, then the goddess takes away all your worries. According to the legend, Sati's feet had fallen here after it was cut by Lord Vishnu. The temple has a simple architecture. The sanctum sanctorum of the temple houses the image of the Goddess in the form of a pindi( a round stone). The surroundings of the temple is enveloped in natural beauty, which is truly a visual delight.
During the festival of Navratras, a grand fair is held at the temple complex. Devotees come to the temple from far and wide to receive blessings of the Goddess. Devotees offer sweets, kheer, patasha, coconut, chunni, dhwaja(red-colored flag), flowers and ghee to the Goddess. The other festival celebrated here with joy and enthusiasm is the Sawan Ashtami Fair. The temple can be visited throughout the year. However, the best time to visit the temple is during the ten day long fair in the month of August every year.
Nearby Attractions of Chintpurni
Sheetala Devi Temple(5 km from Chintpurni), Jwalamukhi Devi Temple( 35 km from Chintpurni), Vajeshwari Devi Temple(50 km from Chintpurni), Naina Devi Temple( 115 km from Chintpurni) and Masroor temples. These are some of the famous temples held in great respect by the Hindus.
How To Reach Chintpurni Temple
By Air
The nearest airport is the Gaggal Airport in Kangra located 60 km the Chintpurni Temple.
By Rail
The nearest railway station is at Hoshiarpur, which is 42 km from the Chintpurni Temple.
By Road
Chintpurni Temple is easily reachable from the all parts of Himachal Pradesh by road.
Free Tour Customization
from Experts