Ex-Mumbai / Pune
Hill Stations
Amboli
Amboli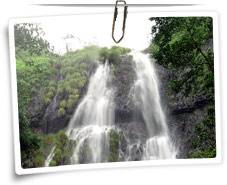 A Paradise For Honeymooners And Adventure Enthusiasts
Visit Amboli- the last mountain resort before the coastal highlands settle, with a sigh, to form flat beaches. Located in Sindhudurg district of Maharashtra, 64 km from Belgaum, Amboli is perched at an altitude of 690 m. The hill resort lies in the southern reanges of the Sahyadri hills. It boasts of being one of the few hill stations which offer a splendid view of the sea. The hilltop Amboli gives a fine bird's-eye view of the Konkan coast as well as the hills and fertile plains.
Prime Attractions
Amboli has several view points that offer splendid views of the entire region. Sea View Point is the most frequented one, which offers a rare view of the land all the way to the golden Konkan coast.
Hiranyakeshi River is an ideal site for picnic, which originates at a cave on the terrain rocks and flows down to reach Amboli. It is an ideal spot for angling as well.
The cave, from which Hiranyakeshi is originated, is popular for its seven ponds. The surprising element with this 300 m long cave is that the sunlight is seen only at the last pond. A small Shiva temple, built in the front of the cave, is highly revered by the devotees during Mahashivaratri.
Amboli is popular for its crystal clear waterfalls. There are a total of 23 waterfalls that serve as charming picnic spots.
Mahadevagarh Fort, located 3 km away from Amboli, is a lovely place to visit and enjoy a panoramic view of the Konkan coast. The Sunset Point is quite close to the fort.
Places like Mahadevagarh, Manohargarh, Manasantoshgarh and Narayangarh are ideal for adventure activities like trekking and horse riding.
Nagatta Falls, Bauxite Mines, (10 km), Botanical Garden, Silk centre and Raghaveshwar temple are other prominent places worth seeing while on a trip to Amboli.
Best Time To Visit
Mostly hill stations are visited during summer season, but Amboli is an exception. It is frequented in the rainy season. To see the waterfalls in their full glory, one has to visit this place during the monsoon.
Accommodation
A few economy class hotels and Government resorts are available at Amboli, which provide comfortable acommodation along with food and all kinds of basic amenities.
How To Reach
Nearest airport to Amboli is Belgaum (64 km). If you are travelling by train, the nearest railway station is at Sawantwadi (28 km) on the Konkan Railway.
Free Tour Customization
from Experts