North India Wildlife Holidays
Sariska
Sariska National Park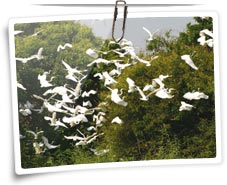 Located in the Alwar district of Rajasthan, Sariska National Park occupies a significant place on the tourist map of India. One of the important national parks in the country, Sariska National Park was once a hunting reserve of the rulers of Alwar. Later in the year 1955 the Park was declared a wildlife reserve and finally in 1978 it came under Project Tiger scheme. Once this Park was famous for its tiger population but unfortunately due to poaching the park's tiger population disappeared in 2005. However, the relocation programme started in 2008.
Covering an area of 866 sq km, Sariska National Park encompasses grasslands, dry deciduous forests, sheer cliffs and rocky terrain. Major portion of the Park is covered with dhok trees.
Wildlife inside the Park
The Park provides shelter to wildlife such as Tiger, Leopard, Wild Dog, Jungle Cat, Hyena, Jackal, Sambar, Chitel, Nilgai, four-horned antelope, Wild Boar and Langur and Rhesus Monkeys. Also visit the Siliserh Lake located on the edge of the park if you wish to see crocodiles.
Some of the avian species inhabiting the Park include Peafowl, Grey Partridge, Bush Quail, Sand Grouse, Tree Pie, Golden backed Wood Pecker, Crested Serpent Eagle and the Great Indian Horned Owl.
The Park also houses the ruins of medieval temples of Garh-Rajor dating back to the period between 10th and 11th centuries.
Best Time to Visit
From October to June.
Accommodation
A variety of accommodation options are available near the Park.
How To Reach
By Air
Jaipur is the nearest airport.
By Rail
The nearest railway station is at Alwar.
By Road
It is also easily accessible by road.
Free Tour Customization
from Experts