South India Wildlife Holidays
Periyar
Periyar Wildlife Tour
The Perfect Amalgamation of Wildlife and Scenic Beauty.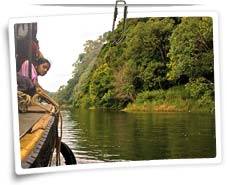 Periyar is one of the most famous wildlife destinations of South India. It is a protected area and a Project Tiger Nature Reserve located in the Idukki district of Kerala. Periyar is a fabulous destination surrounded by the lofty mountains. Its scenic beauty along with its wildlife species make it a popular tourist attraction, which is visited by tourists from all over the world.
Attractions of Periyar
Periyar Wildlife Sanctuary
Wildlife buffs, Periyar Wildlife Sanctuary is a great destination to visit. Being one of the best wildlife sanctuaries of India, Periyar wildlife sanctuary will surely impress you with its wildlife species population. It is also known as Thekkady Wildlife Sanctuary. Sprawling over an area of 777 sq km over the Cardamom hills of Western Ghats, the Periyar Wildlife Sanctuary also has a lake. Boating facilities are available here.
FAUNA In Periyar
Mammals
Periyar is a home to around 62 kinds of mammals including the endangered ones. There are around 1000 elephants and 24 tigers in the Park. Other mammals sighted here include gaur, sambar (horse deer), barking deer, mouse deer, Dholes (Indian wild dogs), mongoose, foxes, lion-tailed macaque, the Nilgiri Langur, the common langur, and the Bonnet Macaque. and leopards. The endangered Nilgiri tahr are also found here.
Avian Species
Around 320 avian species have been recorded in the sanctuary such as darters, cormorants, kingfishers, the great Malabar hornbill and racket-tailed Drongos.
Reptiles
The Park provides shelter to around 45 reptilian species including snake, turtle, lizard etc.
Amphibians
There are twenty seven different kinds of amphibians found in the sanctuary.
Fish
The lake in the sanctuary teems with fish like tilapia originally from Africa and the carps introduced from Europe. Apart from this there are 38 different fish types found here.
Insects
The sanctuary is the proud home to a wide variety of butterflies(around 160 kinds).
Safaris
You can enjoy boat safari, jeep safari and elephant safari in the sanctuary.
Best Time To Visit
From October to March
Excursions from Periyar
Nature walks, visit to spice plantations and tea plantations.
Accommodation
There are different types of accommodation options available in Periyar. Some of the known hotels are Spice Village Resort, Hotel Taj Garden Retreat, Cardamom Country Resort and Hotel Arya Niwas.
How To Reach
By Air
The nearest airports are: Madurai in Tamil Nadu(140 km) Kochi (Cochin) at 200 km.
By Rail
The nearest railway station is Kottayam located at 114 km from Periyar.
By Road
Periyar is well connected to the nearest town Kumily, which in turn is connected to Kottayam, Ernakulam and Madurai.
Free Tour Customization
from Experts