Badami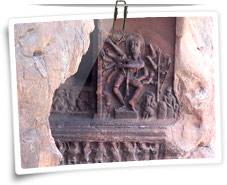 The Town Steeped In Rich History
The architectural beauty of Badami in the form of breathtaking rock-cut temples and other structural temples has earned accolades. Badami is famous the world over for its attractions. It is a historic town located in the Bagalkot district of Karnataka. During the ancient times it was the royal capital of the Badami Chalukyas from the period between 540 AD to 757 AD. Badami got its name from the legend of Batapi, a demon killed by the sage Agastya.
Attractions Of Badami
Cave Temples
Architectural wonders in the true sense of the word, the Cave Temples of Badami are its most enchanting attractions. The history of these temples dates back to the period between the 6th and the 8th century. The striking feature of the temple is the flawless carving of Nataraja (the cosmic dancer) in 81 dance poses. The temple has numerous idols of the Hindu deities which have been beautifully carved. Some of the deities enshrined here are  Ganapati, Shanmuka, Mahishasura Mardhini, Ardha Nariswara, Sankara Narayana, Vishnu and Trivikrama. The fourth cave temple was built in honor of the Jain Tirthankara Mahavira, Parshwanatha and Padmavati.
Archaeological Museum
The Archaeological Museum at Badami displays a rich and rare collection of ancient articles which are historically very important. There are four galleries in the museum showcasing the rich cultural heritage of the past of Badami. The eye-catching specimens in the museum are the Lajja Gauri images of fertility cult, beautifully carved Makara Torana, a panel depicting scenes from Bhagwat Gita and animal dummies. The museum is open from 9 A.M. To 5 P.M.
Best Time To Visit
From November to March
How To Reach
Air
Belgau is the nearest airport located at a distance of 150 km from Badami.
Rail
The nearest railway station is located 5 km from Badami.
Road
Badami is easily accessible from Hubli, Bijapur and Bangalore by road.
Accommodation
Comfortable and reasonable accommodation options are available in Badami.
Festivals
Badami, the proud town of Karnataka with a rich cultural heritage has many reasons to celebrate throughout the year. However, the main festivals celebrated here are the annual temple festival held at Banashankari in January/February, the Virupaksha Temple Car Festival, and Mallikarjuna Temple Festival celebrated at Pattadakal in March/April.
Shopping
Badami is known for its fabulous handicrafts. Some of the famous shopping items in Badami are sandalwood oil, paintings, wood crafts, metal lamps, perfumes, incense sticks, Bijapur jewellery, hand looms etc.
Free Tour Customization
from Experts