Anandpur Sahib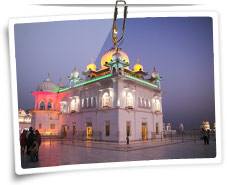 Popularly known as the "Holy City Of Bliss", Anandpur Sahib is the pilgrimage center of the Sikhs. Anandpur Sahib is located in Rupnagar district in the state of Punjab. This pilgrimage center is surrounded by mesmerizing natural beauty. This historic city was established by the ninth Sikh Guru, Guru Tegh Bahadur in the year 1665. This sacred city has several gurudwaras holding immense religious and historic importance. It is at this place where the Khalsa Panth, a council of five wise men that governs Sikh religious affairs, was founded.
Attractions of Anandpur Sahib
Gurudwara Takht Sri Kesgarh Sahib
This Gurudwara houses some weapons preserved as sacred relics.
Gurudwara Sisganj Sahib
It is the historic place where in November 1675 the head of the martyred 9th Guru was cremated here.
Gurudwara Bhora Sahaib
Gurudwara Bhora Sahaib was the abode of the 9th Guru, Sri Guru Teg Bahadur. The Sahibzadas, the holy sons of the 10th Guru were born at this Gurudwara. There is a room in the Gurudwara where the 9th Guru used to meditate.
Gurudwara Thara Sahib
It is the holy place where the 9th Guru used to deliver sermons. It is said that when  the Kashmiri Brahmins were threatened by the Mughal Emperor Aurangzeb, they came to this Gurudwara for refuge.
Gurudwara Akal Bunga Sahib
It is the place where the 10th Guru rested with his disciples and relatives after the cremation of his father.
Hola Mohalla Festival
Hola Mohalla is the famous festival of the Sikhs, which is celebrated with a lot of joy and enthusiasm at Anandpur Sahib. The 10th Guru , Sri Guru Gobind Singh decided that the occasion of the festival of Holi be the occasion for the display of the martial spirit of his people and he crowned the festival of Holi with the name of Hola Mohalla. This festival attracts many a devotee from all over the country.
Best Time To Visit
From October to March
How To Reach
By Air
The nearest airport is at Chandigarh located 75 km from Anandpur Sahib.
By Rail
The railway station at Anand Sahib connect it to the main cities of the country like Delhi.
By Road
Anandpur Sahib is easily accessible from various places of India by road.
Accommodation
Numerous hotels falling into different categories are available in and around Anand Sahib. One of the best accommodation options in Anandpur Sahib is the Kissan Haveli, which has twelve luxury suites.
Free Tour Customization
from Experts