Ex-Mumbai / Pune
Hill Stations
Panhala
Panhala Tour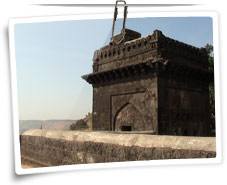 A Hill Station With Historical And Scenic Appeal
Welcome to Panhala- a charming place with a peaceful, pollution free, and scenic atmosphere surrounded by the verdant hills and the terraced farms. This misty hill station, at a height of 3177 feet above sea level, commands a panoramic view of the valley below. Panhala lies in the Kolhapur district in the lap of the Sahyadri mountain range. This small hill station is situated about 22 km to the northwest of Kolhapur city on the Kolhapur-Ratnagiri road and serves as an ideal place for trekking.
It is considered a perfect place to relax and is famed for its rich historic heritage, ancient monuments and majestic forts.
Prime Attractions
Panhala Fort
Situated about 19 km from the Kolhapur city, Panhala Fort boasts of being the largest and most significant forts of the Deccan region of India. This massive fort, with a circumference of 7.25 km, is perched at an altitude of around 850 m above sea level.
Shahji Chhatrapati Museum
The New Palace in Kolhapur has now been converted to Shahji Chhatrapati Museum, which exhibits various antique items of the Maratha warriors. The New Palace was designed by British architect Charles Mant in 1881 in the Indo-Sarcenic style.
Vengurla-Malvan
Vengurla, an ideal place for relaxing, is known for its serene beauty. This southern part of the Maharashtra coastline is famous for its long stretch of shimmering sand dotted with thick cashew, coconut, jackfruit and mango groves.
Vijaydurg-Sindhudurg
During Maratha dynasty, these were the naval bases. Today, because of their picturesque beaches, they serve as family picnic spots.
Ambarkhana
Built by the Marathas, Ambarkhana houses the administrative section, the palace, the mint, and the granary. Its granaries are titled as Ganga, Jamuna, and Saraswati, which were capable of storing as much as 25,000 khandis of grain during the Maratha dynasty.
Koyna Reservoir
The entire Koyna region includes parts of Mahabaleshwar, the Koyna Lake and around Satara. The region is covered with dense forest and offers wonderful opportunities for trekking. Koyna Lake is a well known destination for ferry rides.
Dajipur Bison Sanctuary
Situated on the borders of Kolhapur and Sindhudurg, this bird sanctury is nurtured by the backwaters of Ratnagari dam. The thick forests are abundant in various species of mammals and birds.
Sajja Kothi
Built by the Muslims in 1008 A.D., this structure is known for its marvellous architecture. As the legend goes, when Siddi Johar (a formidable Bijapur General) attacked Panhala, Shivaji tricked the general by escaping from the window of Sajja Kothi, while a brave stalwart Shiva Kashid disguised as Shivaji and combated the wrath of the General.
The Ambabai temple and Sambhaji temple, perched over high hills, are a few other tourists' delights at Panhala.
Shopping
Situated at a proximity to Kolhapur, the market at Panhala offers a wide variety of Kolhapur Jewellery and Kolhapuri Chappals. The jewellery is beautifully crafted with minute embossing and workmanship. One can find various traditional jewellery patterns of the Marathas and Peshwas here. Apart from that, Kolhapur is well known for its textiles, cottons and hand-made leather sandals or chappals. All such products are exported to Panhala markets
Best Time To Visit
Months of July and August receive heavy rainfall at Panhala. The ideal season to visit Panhala is from October to May.
Getting there
By Air
The airport closest to Panhala is at Kolhapur (35 km). Other major airports are at Mumbai (416 km) and Pune (200 km).
By Rail
Nearest Railway station is Kolhapur at 26 km on South Central Railway.
By Road
A direct drive from Mumbai can get you to Panhala in 8 hours. Besides, the State Transport buses ply between Kolhapur and Panhala every 2 hours.
Free Tour Customization
from Experts