Gangotri Tour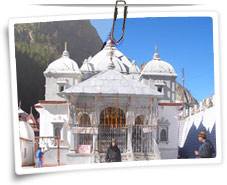 Enveloped in sheer mythological significance, Gangotri is one of the most important Hindu pilgrimages. In fact Gangotri is one of the four pilgrimage sites in the Char Dham Pilgrimage circuit. Gangotri is a holy place located in the Uttarkashi district in the state of Uttaranchal. Located ideally in the great Himalayas at an elevation of 3,042 m, Gangotri is the source of river Ganga, the holiest river in India. Gangotri is also the seat of Goddess Ganga, the daughter of the heaven.
The legend goes that Goddess Ganga came down to the earth in the form of a river to free the King Bhagirath's predecessors from their sins. Lord Siva made Ganga flow through his matted locks to minimize the impact of her fall on the earth. The holy river originates at Gaumukh(18 km from Ganga), located in the Gangotri Glacier. The river is called Bhagirathi at the source and is called Ganga from Devprayga onwards where it meets the Alaknanda river. Gangotri is a wondrous place offering immense scenic beauty and peace.
Attractions of Gangotri
Gangotri Temple At Gangotri
Dating back to the 18th century, the Gangotri temple was built in honor of Goddess Ganga. Carved in white granite, the temple is visited by millions of devotees from across the world. It is believed that during the ancient times the Pandavas performed a yagna here. Located near the temple is a sacred stone called the Bhagirath Shila, a slab of stone where the king Bhagirath worshiped Lord Shiva. Submerged in the holy river here is the self-manifested Shivalinga. It is believed that it is at this place where Lord Shiva received river Ganga in his matted locks.
Gaumukh Glacier
It is a must-visit site in Gangotri located at an altitude of 4200 m above sea level. Gaumukh is the snout of the Glacier, a big wall of ice with a height of 328 feet. It offers amazing views of the surroundings.
Cheedvasa and Bhojvasa
Famous as the perfect camping site, Cheedvasa and Bhojvasa are located around  25 km from Gangotri.
Nandanvan
For trekkers, Nandanvan is a great trekking site offering picturesque views of nature.
Near By Attractions of Gangotri
Dodi Taal Lake, Gangotri- Kedarnath Trek, Gangotri- Nandavan-Tapovan Trek, Gaumukh, Kedar Tal, Nachiketa Taal and Uttar Kashi.
How To Reach
By Air
Jolly Grant(26 km from Rishikesh) is the nearest airport.
By Rail
The nearest railway station is located in Rishikesh.
By Road
Gangotri is well connected to Uttar Kashi, Tehri Garhwal, Rishikesh, Haridwar and some other main cities of the country by road.
Accommodation
Gangotri has wonderful accommodation options such as forest rest houses and tourist's rest houses. Other accommodation options are also available.
Best Time To Visit
From May to November
Recommended Char Dham Tour Packages
Free Tour Customization
from Experts