White Water Rafting
Rishikesh
Rishikesh River Rafting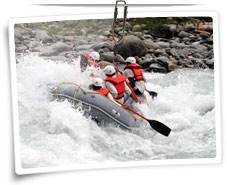 Hub For River Rafting Enthusiasts
Blend your religious tour to Rishikesh with the adventure of white water rafting to make it memorable for a lifetime. Rishikesh, along with Shivpuri and Kaudiyala (about 20 km), has emerged as a major centre of white water rafting in North India. It offers a wonderful experience adventure and thrill. River Ganga and its major tributaries come gushing down from the mountains.
Attractions of Rishikesh
Rafting Camps
White water rafting in Rishikesh begins as early as 5 am. You can find a number of adventure agencies offering packages for whitewater rafting. There are various riverside camps with tents for the overnight stay as well. These camps are environment friendly. Rafters stay in these tents with gas lanterns and sandpits. No detergent, no chewing gum, no plastic and no electricity is allowed here.
November to March is considered the best suitable time for White Water Raftig in Rishikesh. USD 30-40 are the normal charges for rafting in Rishikesh per person per day.
Variable Rapids
These destinations are ideal starting points for daylong and half-day rafting trips with variable rapids. These rapids are white patches of foam on a flowing river caused by sudden gradient or by the river breadth getting constricted while flowing through a gorge between rocks, or by a sudden increase or decrease in the volume of the water. These rapids are graded from 1 to 6, according to the complexity of the run. Class 1 is assigned for an easy, slow-moving current while Class 2 is assigned to small waves. Similarly, Class 3 is for medium waves, Class 4 for faster current with bigger waves that are technical and scouting is sometimes recommended. Class 5 and 6 are for very fast currents, and large waves. These are to be performed by professionals only and scouting is necessary. Rapids are also given interesting names like Golf Course, Three Blind Mice, Daniel's Dip, Sweet Sixteen, Marine Drive, Cross Fire and Roller Coaster.
Rafts
In Rishikesh, rafting is done mostly in imported rafts. These are made of vulcanised rubber bodies, which is reinforced by nylon fabric. These rafts are tough enough to withstand the heavy flow of water and the rocky boulders. One must keeps an eye check on all the safety standards including good rafts, crash helmets, life jackets and a medical backup as well.
Rafting in the Ganges is truly an exciting adventure for the white water enthusiasts. Originating from the lofty Himalayas, the Ganges is a paradise for rafters.
Other Actiities
Apart from white water rafting, Rishikesh is also approached for body surfing, cliff jumping, beach volleyball, trekking, camping, rock climbing, rappelling, wildlife safaris (Rajaji National Park), canoeing, hiking etc.
Getting There
By Air
Dehradun (Jolly Grant), 35 km, is the nearest airport, which is well connected to Delhi and other major cities.
By Rail
Rishikesh is directly connected by rail via Haridwar (24 km) to cities like Howrah, Bombay, Delhi, Lucknow, Varanasi, Dehradun and other cities.
By Road
Rishikesh is a prominent tourist destination. It is easily accessible from Haridwar 24 km, Dehradun 47 km, Mussoorie 77 km, Badrinath 301 km (Son Prayag), Kedarnath 228 km, Gangotri 258 km, Yamunotri 288 km (Hanuman Chatti), Srinagar 105 km, and Joshimath 252 km.
Free Tour Customization
from Experts