Himachal Pradesh
Paonta Sahib
Paonta Sahib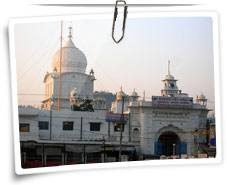 Founded by the tenth Sikh Guru Govind Singh Ji, Paonta Sahib is a pilgrimage center of the Sikhs and the Hindus holding a great historic significance. Wrapped up in mesmerizing scenic beauty, Paonta Sahib, a small town, was a home to the tenth Sikh Guru Govind Sing Ji for around four years. The town is hemmed in by Sal forest and is located on the banks of the Yamuna river.
Attractions of Paonta Sahib
Gurudwara Paonta Sahib
Gurudwara Paonta Sahib is the main attraction of the Paonta Sahib town. Visited by pilgrims from various parts of the country, Paonta Sahib Gurudwara is the sacred place where the tenth Sikh Guru Govind Singh Ji lived for about four years and during his stay here he wrote the 'Dasam Granth'. Shri Talab Asthan is the site in the complex of the Gurudwara where the Guru used to distribute salaries. During his stay  in the Gurudwara several competitions such as turban tying competition were judged by the Guru at Sri Dastar Asthan, a place in the Gurudwara. Another attraction inside the Gurudwara is the monument dedicated to Kalpi Rishi. Also visit the museum housed in the Gurudwara. Here you can treat your eyes to the pens of the Guru and the weapons belonging to the raja-maharajas of the bygone era.
Yamuna Temple
Yamuna Temple is an ancient temple having its own charm. It is located near the Gurudwara Paonta Sahib and is visited by pilgrims from all parts of the country. The temple was built in honor of Goddess Yamuna.
There are several other attractions near the town of Paonta Sahib such as Gurudwara Bhangani Sahib, 23 km from Paonta Sahib, Gurudwara Tirgarhi Sahib(22 km), Nagnauna Temple(16 km), Gurudwara Shergah Sahib(22km), Nahan(45 km), Fossil Park,Saketi (60 km), Shiva Temple(4.5 km), Katasan Devi Temple(30 km), Sirmour(16 km), Ram Temple and Simbalwara Wildlife Sanctuary(12 km).
How To Reach
By Air
Jubbarhatti is the nearest airport located at a distance of 145 km from the town of Paonta Sahib.
By Rail
Yamunanagar is the nearest railway station, easily reached by covering a distance of 56 km from Paonta Sahib.
By Road
Paonta Sahib is well connected to all the parts of Himachal Pradesh by road.
Accommodation
Some of the best accommodation options in Paonta Sahib are the Hotel Citizen, Hotel City View, Hotel Clock Tower and Ganga Lodge.
Free Tour Customization
from Experts