Ex-Mumbai / Pune
Hill Stations
Matheran
Matheran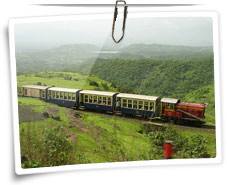 A Perfect Weekend Getaway
Visit the fascinating hill station with 33 majestic view points, offering marvellous views of the Sahyadris, the nearby valley, rosy sunrises and the sunsets. This cool eco-friendly hill station, Matheran, is situated at an altitude of 800 m in Alibag district, 80 km east of Mumbai. Being the closest hill station to Mumbai and Pune, Matheran is ideally suited for the weekend in the lap of gigantic Sahayadri Range.
The entire town is covered with dense greens and the age-old colonial buildings. One can enjoy clean and unpolluted air at this hill station as motor vehiles are not permitted here and it is the only hill station in India where honking is strictly prohibited due to its echoing valleys. One can hire horses to reach the high hills.
Prime Attractions
Toy Train
This miniature train is a must watch at Matheran. Introduced in 1907 by the British governor general of Mumbai, Lord Elphinstone, the toy train commences its adventurous journey from Neral in Mumbai and reaches the quaint hill station Matheran in two hours. It offers marvellous views of dense and shady forests, steep hills, sharpest curves and the beautiful valley during the journey.
Panorama Point
One of the highest view points at matheran, Panorama point is a perfect spot to have a glimpse of the Mumbai city and the entire Matheran valley. One can also enjoy the amazing sunrise and set views here.
King George point
Mostly visited during monsoon, this point offers a stunning view of the waterfall overflowing from the Charlott Lake. It is a favourite destination of the trekkers as well.
Echo point
Situated in the heart of the valley, the Echo Point is popularly known as the lover's paradise. One can enjoy the echoes of his/her own voice from this spot.
Charlotte Lake
The lake serves as a major source of water in the entire region. The tranquil ambiance and unique eco-system of the lake draws a large number of tourists and holidaymakers.
Shopping
Matheran is very popular for its leather products. One can buy good quality leather bags and belts, Kolhapuri footwear, hats, etc. from Matheran. In sweets, a local preparation 'Chikki' (a candy made of gram flour, jaggery and cashew nuts) is the spacialty of this hill station. Other items worth purchasing at Matheran are the delectable fudge and local honey.
Best Time to Visit
October to May
Accommodation
Matheran offers plenty of accommodation options varying from budget & economy class hotels to luxurious hotels and resorts. MTDC accommodations are also available.
Getting There
By Air
Nearest airport is Mumbai at 100 km.
By Rail
Nearest railway station is Neral at 21 km. Toy train as well as local trains are operated from Mumbai to narel.
By Road
State Transport buses regularly ply from Mumbai and Pune to Matheran. One can also hire private taxis to reach this natural wonder. As vehicles are not permitted to enter Matheran, ponies are favored as means of transport.
Free Tour Customization
from Experts