Vrindavan Tour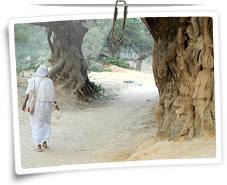 The very name Vrindavan conjures up images of Lord Krishna who mesmerized the people here with his miracles. Located 15 km from Mathura in Uttar Pradesh, Vrindavan is the celebrated land deeply associated with the life of Lord Krishna, especially his youth when he used to spend glorious time with Gopis and his beloved Radha. It is a holy place attracting devotees of Lord Krishna from across the globe. Vrindavan is dotted with around 4000 temples(dedicated to lord Krishna), some of which are ancient. The very experience of visiting Vrindavan is enlightening. Vrindavan can be visited throughout the year.
Some of The Famous Attractions of Vrindavan
Shri Banke Bihariji Temple
Dedicated to Lord Krishna, Shri Banke Bihariji Temple is the most famous temple of Vrindavan. It is one of the oldest temples, which was rebuilt in 1921. The sanctum sanctorum of the temple has a beautiful idol of Lord Krishna known as Thakur Ji. The idol of the Lord here is black and is beautifully decorated with flowers and jewelery. The tour to Vrindavan is incomplete without visiting this temple.
Vrindavan Parikrama
Vrindavan Parikrama is a customary walk on which the devotees embark generally on Ekadashi(the eleventh lunar day of the waxing and waning of moon). It is believed that performing Vrindavan Parikrama earns you boundless good fortune. The path of the Parikrama goes around the town. The walk generally takes 2-3 hours.
Govinda Dev Temple
Reflecting the marvellous architectural style of the medieval period, Govinda Dev Temple was built by Raja Man Singh in 1590.
Shahji Temple
Shahji Temple is famous for its exquisite art architecture, sculptures and twelve single piece spiral columns. The temple houses the renowned Basanti Kamra, which has amazing ancient chandeliers and paintings.
Rangji Temple
Rangji temple is the longest temple of Vrindavan built in South Indian architectural style. However, the main gate of the temple reflects Rajput style of architecture and the colonnade was made in Italian architectural style. It has huge Gopurams and gateways, which are notable. It is a great delight to the admirers of art and architecture.
Gardens In Vrindavan
Although there are several gardens in Vrindavan but the Seva Kunj garden and the Nidhuban deserve mention. They are the gardens where Lord Krishna used to spend hours together with Radha and gopis.
Glass Temple
Do visit this temple to treat your eyes to the magnificent glass work.
How To Reach
By Air
Agra is the nearest airport located 67 km from Vrindavan. The regular flights from the airport connects Agra to major cities like Delhi, Mumbai, Varanasi and Khajuraho.
By Rail
There is a railway station at Vrindavan but the main railway station is at Mathura.
By Road
Vrindavan is connected to Mathura and other main cities of India by road.
Free Tour Customization
from Experts