Ex-Mumbai / Pune
Hill Stations
Bhimashankar
Bhimashankar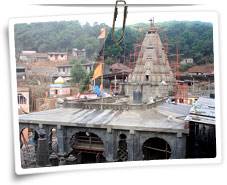 An Excellent Example Of Indo-Aryan Architectural Art
Dedicated to Lord Shiva, this ancient temple dates back to the 18th century. Constructed by Nana Phadnavis, the discreet politician of Maratha dynasty, the temple is one of the 12 Jyotirlingas in India. It lies in the village of Bhavgiri, 128 km from Pune. Bhimashankar Temple is built in the Nagara style of architecture. The temple is set on an altitude of about 3250 feet.
Legend
Erected over a Swayambhu Linga, the temple is built on the same place where Lord Shiva killed Rakshas Tripurasura. As the legend goes, after killing the demon, when Lord Shiva was resting on the hill, his sweat drops fell to the ground and transformed into the Bhima River. Being situated close to the river, the temple also came to be known as the Bhimashankar Temple.
Prime Attractions
The Shiva Linga (1.5 feet) is located in the center of the sanctum. The pillars and the door frames of the temple are adorned with intricate carvings. One can also find a small shrine of Lord Shani. An idol of Nandi is also installed at the entrance of the temple. Another major attraction of the temple is a huge bell built by Nana Phadnavis in Hemadpanthi style.
Sightseeing
One can find several Buddha style carvings of Bhootling, Amba-Ambika and Bhimashankar on the nearby hills.
There is a wildlife sanctuary near the temple, which is home to various species of flora, fauna and avifauna (birds). The sanctuary is a protected red forest area and the endangered 'giant flying squirrel' (Shekaru) can easily be spotted in the dense woods.
Adventure Activities
Apart from being an important pilgrimage, Bhimashankar Temple is a favourite haunt for nature lovers as well as adventure enthusiasts. The hills are frequented for trekking, sight seeing & mountaineering.
A number of devotees flock to the temple during 'Tripuri Poornima' and 'Mahashivratri'.
Best Time To Visit
August to February
Getting There
By Air
Nearest Airport is at Pune (130 Km).
By Rail
Nearest major railhead is also at Pune (130 Km).
By Road
Bhimashankar Temple is easily accessible from Mumbai (via Lonavala- 213 km and via Malshej-147 km) and Pune (via Manchar).
Free Tour Customization
from Experts