Pondicherry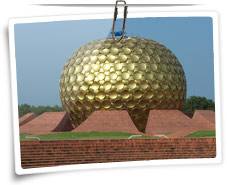 The Land Symbolizing Unity In Diversity
Mother Nature embraced this wonderful land of Pondicherry like a mother embraces her child and showered natural beauty on it in plenty. Pondicherry is a peaceful and beautiful tourist destination located on the western coast of southern India. Pondicherry is a Union Territory of India, and was a French colony till 1962. Even today the French influence can be seen in Pondicherry to a remarkable degree. English, French, Telugu and Malayalam are the languages spoken here. The history of Pondicherry dates back to the 1st century AD. Pondicherry is divided into two parts: one is the Indian Quarter (Black town) and the French Quarter(White town). There is a huge difference in the architecture of these two regions.
Plan a vacation to Pondicherry and let yourself loose in its captivating beaches, arresting architectural beauty, historic spots and rejuvenating gardens. Apart from the tourist attractions, Pondicherry will greet you with a delicious cuisine influenced by Kerala, Tamil Nadu, Andhra Pradesh and French.  Some of the interesting mouth-watering dishes you can feast on are coconut curry, tandori potato, soya dosa, curried vegetables, stuffed cabbage and Italian baked beans.
Some of the tourist spots in Pondicherry are
Sri Aurobindo Ashram
This ashram is dedicated to Sri Aurobindo who was a great freedom fighter and a philosopher. The ashram is devoted to the noble cause of world peace. You can learn a lot about life here.
Auroville
Auroville, also known as the 'city of dawn', was built by Sri Ma, the companion of Sri Aurobindo. It is a unique city where people of all communities from across the globe live peacefully. Covering an area of around 50 sq km, the city is inhabited by around 1700 people. Located in the center of the city is the temple of the Mother, Matri Mandir. It is a must-see destination of Pondicherry.
Pondicherry Museum
The Museum is a storehouse of rich and rare articles belonging to the ancient times. You can even see some Roman articles here. There is also a French section. Other than this, the museum houses great collection of sculptures, paintings and sea shells.
Promenade
It is a popular tourist spot in Pondicherry facing the Bay of Bengal offering breath-taking views of the surroundings. This place has a statue of Mahatama Gandhi and a War memorial.
Chunnambar Resort
Love beach and water sports - a perfect beach to head out to.
Famous Festivals Of Pondicherry
If you get an opportunity, do participate in the famous festivals of Pondicherry: Villianur Temple Car Festival(May), French Food Festival(August), and Fire Walking Festival.
Shopping In Pondicherry
You can happily go on a shopping spree in Pondicherry as it is very reasonable here. Leather items, Jams, handmade paper, pickles, incense sticks, perfumed candles and pottery are some of the popular items you can buy from the markets of Pondicherry.
How To Reach
Pondicherry is well connected by air with other major Indian cities and the countries of the world through the Chennai Airport(Tamil Nadu). One can easily reach Pondicherry from Chennai by trains and buses.
Free Tour Customization
from Experts