Ex-Mumbai / Pune
Hill Stations
Bhandardara
Bhandardara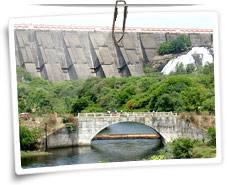 God's Ornamental Creation
Get a taste of rural Maharashtra and a healthy dose of clean air, greenery and natural beauty. Nestled amongst majestic hills, Bhandardara is a beautiful holiday resort and an ideal place for trekkers. Bhandardara, a small and peaceful area, is located at a distance of 70 km from Nashik. This hill station is popular among picnic lovers.
Prime Attractions
Wilson Dam
Built on the Pravara River in 1910, this dam serves as a lovely picnic site. The dam is almost 492 ft above sea level and boasts of being the largest earthen dam in the country and one of the oldest dams in Asia. Wilson Dam is being credited for the creation of the Arthur Lake. It also reflects the gorgeous image of Mount Kalsubai, the highest peak (5,400 ft) of the Sahyadri range in Maharashtra.
Arthur Lake
Formed by the waters of the Pravara River, this lake increases the charm of Bhandardara amidst the dense greens. Besides offering breathtaking views, this water body is also used for hydro-electric power generation.
Mount Kalsubai
This peak point served as the watchtower during the Maratha dynasty. With an altitude of 1,646 meters, Mount Kalsubai is not only the highest peak in the Sahyadri Range of Maharashtra but also a perfect destination for trekking. One can find a small temple and an ancient well on the top of the mountain. People believe that the water in the well never falls below 3 feet.
Agastya Rishi Ashram
This place is well described in the Hindu epic Ramayana. It is the same place where Agastya Rishi (a great sage) used to live and meditate. As the legend goes, Lord Ram, Laxman and Sita visited Agasti Rishi at the same place.
Ratangarh Fort
This old structure, after being captured by the Maratha King Shivaji, once served as his fortress. The fort has various trekking trails and provides amazing views of the valley below.
Amriteshwar Temple
Built in 1100 AD, this temple is known for its distinctive Hemadpanti style of architecture. Its intricate carvings are its prime attractions.
Accommodation
Bhandardara offers various economy class hotels and resorts. MTDC also runs a holiday resort here.
How To Reach
By Air
Nasik (93 km) is the nearest airport. Another major airport is at Mumbai (185 km).
By Rail
The nearest railhead is Igatpuri on Central Railway (45 km).
By Road
Bhandardara is accessible by road from Mumbai (185 km) and Pune (191 km).
Free Tour Customization
from Experts