Hampi Tour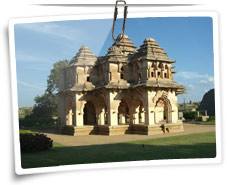 The City With A Fascinating Architectural Heritage

Steeped in architectural beauty and mythology, Hampi is a fantastic destination in Karnataka. A land dotted with breathtaking ancient temples, Hampi is a World Heritage Site. It is popularly known as the temple village of the state of Karnataka. Proud of its rich history, Hampi is now almost in ruins. Symbolizing glorious heritage of Hampi, the temples here are so fascinating that they leave the visitors spell bound.
The foundation of Hampi was laid in the 14th century by the two local kings namely Hakka and Bakka. It was once the capital of the well known Vijayanagara Empire. Several rulers ruled over Hampi and made great contributions to its architectural heritage. Hampi finds mention in the Great Hindu Epic Ramayana. It is believed that Lord Hanumana took birth in Hampi and also met Lord Rama for the first time in Hampi only. The Matanga Hill located in Hampi is the place where Sugriva took refuge after a battle with his brother Bali.
Attractions of Hampi
The rich architectural heritage of Hampi encompasses around 500 monuments including temples, palaces, remains of lakes and ponds, royal pavilions etc. These monuments speak volumes about the incredible creativity of the craftsmen and artists of Hampi. The ancient temples of Hampi have a unique charm of their own. Some of the must-visit temples of Hampi are Virupaksha temple, Monolithic Bull, Varah temple, Rangatha temple, Veerabhadra temple Krishna temple, Hemakuta temple, Chandikeswara temple, Vishnupada Shrine, Saraswati temple and Sugreeva's Cave.

Shopping in Hampi
A wide variety of colorful hand looms are available in the bazaars of Hampi. Shop for these from the Andhra Handloom House(Hospet), Karnataka Handloom (Station road) and Tamil Nadu Cooptex, Gandhi Chowk.

How To Reach
By Air
Tornagallu is the nearest airport. Other nearby airports are at Bellary, Belgaum and Bangalore.
By Rail
The nearest railway station is at Hospet that is connected to the major cities of Karnataka.
By Road
Hampi is well connected to the major cities of South India by road.
Free Tour Customization
from Experts