Solang Valley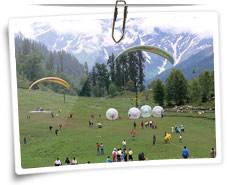 A Dream Destination For Honeymooners & Skiers
Solang valley, in Himachal Pradesh, is an internationally renowned ski resort. Located at an elevation of 2500 m, the destination draws thousands of newly wed couples and adventure enthusiasts. Solang is a small village about 13 km from Manali. Clean and fresh air, spell-binding surroundings, surrounding mountains soaring up to 6000 m and various summer and winter sports make it a favourite place among the tourists.
There are various Government and private owned camps, which conduct a number of skiing programmes. The world class facilities provided in these camps make the Solang Valley one of the most professional & comprehensive ski training centre in the country. These ski agencies offer courses, equipments and assistance regarding skiing. Solang Valley offers various giant slopes covered with thick snow.
Skiing is the best way to explore the nearby glaciers, the entire valley and the snow capped mountains. The honeymooners do not, generally, go for skiing. They love to walk around, sit in the snow, get pushed around in sleds and do the tyre ride. But the adventure loving tourists can also try out sports/activities like parachuting, paragliding, horse riding and zorbing at Solang.
Solang Valley is popular for its Mountaineering Institute that has installed a ski lift for training purpose. Tourists can find a hut and guest house belonging to the Mountaineering and Allied Sports Institute, Manali. But recently, the village/town has come up with a few hotels too. Mostly people throng to the Solang Valley in the Winter Skiing Festival.
Free Tour Customization
from Experts