Jammu & Kashmir
Katra / Vaishno Devi
Katra / Vaishno Devi Tour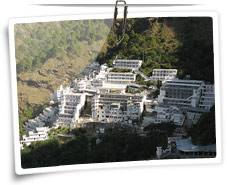 Vaishno Devi is one of the most revered pilgrimage centers of the Hindus. It is believed that no prayer goes unanswered at Vaishno Devi. The holy shrine of Mata Vaishno Devi is perched on top of the beautiful Trikuta Hills at an altitude of 1,700 m in Jammu. The shrine is in the form of a cave dedicated to Vaishno Devi, the mother goddess.
Vaishno Devi is located near the Katra town, which is the last place up to which the modern transport can go. Katra serves as the base for the pilgrimage to the holy shrine. The shrine is located around 12 km from this base and can be reached either on foot, horses/ponies or on palanquins. However, most of the devotees go on foot.
The Vaisno Devi temple is visited by millions of devotees from far and wide every year. A distance of one km from Katra brings the devotees to the halt known as Banganga, where the Mother Goddess is believed to have stopped to drink water. As you move further covering a distance of 6 km from Banganga, you will reach the cave of Ardhkunwari. It is believed that the goddess meditated here for nine months.
For embarking on the path leading to the main shrine, devotees need to get a Yatra slip issued by the Shrine Board at Katra. The slip is free of charge. Keep the slip with you because when you reach the Bhawan, just below the shrine, you are asked to show the slip.
The cave shrine of Vaishno Devi is 30 meter in length and only one-and-a half m in height. Devotees have to pass through a narrow path inside the cave and have to walk through ice-cold waters to reach the shrine. The shrine houses the images of the three forms of the Mother Goddess- Mahakali, Mahalakshmi and Mahasarasvati. According to the legend linked to the shrine, the Mother Goddess hid in this cave when a demon was running after her to kill her. Finally, the Goddess killed the demon.
Best Time To Visit Vaishno Devi
From March to July.
How To Reach
By Air
The nearest airport is at Jammu.
By Rail
The nearest railway station is also at Jammu, which is connected to main cities of India.
By Road
Jammu is well to the main cities of India by road.
Accommodation
Different kinds of hotels are available in Jammu.
Free Tour Customization
from Experts