Kedarnath Tour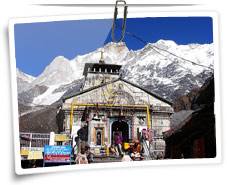 Kedarnath is one of the most sacred pilgrimages of the Hindus. Kedarnath is a holy town located in the Chomali district of the state of Uttaranchal. Enjoying a fascinating location in the mighty Himalayas, Kedarnath is located an altitude of 3584 m above sea level, near the river Mandakini. Famous for its scenic beauty, Kedarnath is one of the twelve Jyotirlingas of Lord Shiva. The views of the mesmerizing Kedarnath range is a sight to behold. The views of the snow-capped mountain peaks leave the onlookers enchanted. It is believed that during the ancient times Lord Shiva resided in Kedarnath for some time. Kedarnath is the remotest of the Char Dhams. The devotees of Lord Shiva from far and wide come here to take the blessings of the Lord. 
Attractions of Kedarnath
Kedarnath Temple
It is believed that Kedarnath Temple is the place where Lord Shiva once meditated. Later a temple was built at this place by the sage Adi Shankara in the 8th century. The interiors of the temple are decorated with beautiful images of the heavenly deities and  scenes from the Hindu Mythology. The temple enshrines a conical rock formation, which is worshiped as Lord Shiva. The temple is fashioned out of grey slabs of stones.
There are five Kedar temples, out of which the Kedarnath Temple is the main shrine. The other four Kedars are: Madhyamaheshwar,Tunganath,Kalpeshwar and Rudranath.
Shankaracharya Samadhi
Devotees visiting Kedarnath also visit the samadhi of the sage Shankaracharya, which is located behind the temple. It is he who established the four Dhams(pilgrimage centers) in India.
Vasuki Tal
Located 6 km from Kedarnath, Vasuki Tal is a charming lake offering breathtaking sights of the mountain peaks.
Gaurikund
En route Kedarnath, Gaurikund is famous for its thermal springs with medicinal properties. Also visit the temple here that is dedicated to Goddess Gauri.
Sonprayag
Located 20 km from Kedarnath, Sonprayag is the site where the rivers Son Ganga and Mandakini meet.
Triyuginarayan
Situated at a distance of 25 km from Kedarnath, Triyuginarayan is a place of sheer mythological importance. It is at this place where the marriage of Lord Shiva and Goddess Parvati was solemnized. An eternal flame, which is said to have been a witness to the marriage burns incessantly in front of the temple. 
How To Reach
By Air
The nearest airport is Jolly Grant at Dehradun, located 251 km from Kedarnath.
By Rail
The nearest railway stations are at Rishikesh(234 km) and Kotdwar(260 km).
By Road
Kedarnath is accessible from Gaurikund which in turn is connected to other place like Rishikesh, Kotwar, Dehradun and Haridwar.
Accommodation
Accommodation is not an issue in Kedarnath. Tourist Rest House, private hotels, Dharamshala and Temple committee Guest House are available for tourists. Non-vegetarian food and alcohol are not allowed in Kedarnath.
Best Time To Visit
In the winter season, the shrine remains closed as it gets submerged in snow. The best time to visit Kedarnath is from May to October.
Recommended Char Dham Tour Packages
Free Tour Customization
from Experts