North and Western India Hotels / Resorts
Maharashtra
Maharashtra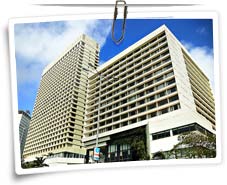 Maharashtra is one of the major tourist destinations of India attracting tourists from far and wide. Having an aura of natural beauty and history, Maharashtra encompasses many tourist attractions such as fabulous sea beaches, wonderful hill stations, awesome historic monuments, forts and palaces and beautiful cities. Maharashtra invites you to explore some of the most brilliant creations of human mind such as the Ajanta and Ellora caves, the Daulatabad fort and Shridi. These destinations are famous all over the world.
Mumbai, the capital city of Maharashtra is an important city of India, playing an important role in Indian Tourism. Some of the widely visited hill stations in the state are Mahabaleshwar, Panchagani, Khandala, Lonavala, Ratnagiri and Matheran. The description of Maharashtra is incomplete without the mention of its gorgeous beaches such as Juhu, Choupatty, and Marve in Mumbai, and Manori and Aksa in the outskirts of the city. The other worth-visiting sea beaches are at Alibag, Ganapatipule, Dahanu Bordi, and Murud Janjira. The other known cities of Maharashtra are Pune, Aurangabad and Nagpur. In Maharashtra you can choose several tours such as sightseeing tours, adventure activities, pilgrimage tours and wildlife trips.
Maharashtra offers ample hotels falling into different categories to tourists. If you are more inclined towards luxury, then you can find the best accommodation in the cities like Mumbai, Pune and Nagpur. These cities have several luxurious hotels offering a luxurious stay. The hotels offer magnificently appointed rooms and suites that are well furnished and provide a host of modern amenities. The rooms can be categorized as Executive Suites, Deluxe Suites, Deluxe Rooms, Conservatory Rooms, Royal Club Rooms, Turret Suite and the Regal Presidential Suite. Hotel Hilton Towers, Hotel Leela and Hotel Hilton Towers in Mumbai are a few to name.
Pune also invites you for a stay in its luxurious hotels such as Hotel Le Meridian, Hotel Taj Blue Diamond and Hotel Maurya.  Nagpur has its own share to offer:  Hotel Chanakya, Hotel Centre Point, Hotel Gomti and Hotel Blue Moon.Maharashtra also has hotels, which fall into four star, three star, economic and budget categories. They offer good facilities and services.
Free Tour Customization
from Experts