Scuba Diving and Snorkeling
Scuba Diving and Snorkeling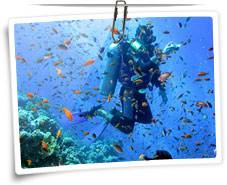 The True Oceanography
Dive into the deep oceans and engage your body, mind and your spirit of adventure. India is a heaven for adventure sports enthusiasts of all kinds. Visit India in any season of the year and you will find the best of facilities and opportunities for scuba diving and snorkeling on almost all the coastlines. With its large coastline, coral islands, and great variety in the marine life, India offers an amazing opportunity to study the marine life and underwater ecosystem.
Scuba diving allows you to visit the underwater wonders, using air tanks that allow you to breathe underwater. But the diver needs to be certified in Scuba Diving for safety. While, Snorkeling is done with fins, masks, and a snorkel tube that allows you to swim and breathe while your face is in a relaxed position in the water.
Lakshadweep is fast becoming water sports capital of India and especially of the underwater sea sports. Indian islands are the best places to enjoy Scuba Diving and Snorkeling. The sport is a wonderful means to have a glimpse of the under-water marine life, the rarest varieties of corals, varieties of colorful fish, mysterious remains of sunken ships, etc.
Basic Tips About The Technique And Gears
Before going to dive into the sea, one must check whether all the underwater gears are in the proper condition. Starting with the face-mask to the fins, gloves, oxygen cylinder, wet suit, snorkel, underwater flashlights, dive watch etc.
Beginners are advised to dive always with a partner. Besides, they should display a "Diver Below" flag to advise boat drivers and jet skis of their presence. Most importantly, diving should be done in proper health.
Most of the islands in Andaman and Lakshadweep are inaccessible and foreign tourists require special permits from the Government authorities to enter these islands. It is advised to carry a few extra passport-sized photographs and copies of your passport.
Prime Destinations For Scuba Diving And Snorkeling
Andaman-Nicobar Islands are home to one of the richest coral reef Eco-system in the world.
Mahatma Gandhi Marine National Park, Carbyn's Cove Tourism Complex, Havelock and other islands in Andaman are the favourite places of these divers.
Untouched and unpolloted islands of Lakshadweep, such as Kadmat Island.
Goa is the third major scuba diving destination in Goa. Grande Island, Davy Jones, Suzy's Wreck, Tunnel Shelter Cove, and Locker Sail Rock Turbo are the popular scuba diving spots in Goa.
Bat Island and Navy Island in Goa are known for snorkeling facilities.
Devbagh, Karwar Beach, Karnataka (it also offers scuba diving courses, run by the trainers affiliated to PADI, the Professional Association of Diving Instructors, USA).
Free Tour Customization
from Experts