Andhra Pradesh
Puttaparthi
Puttaparthi Tour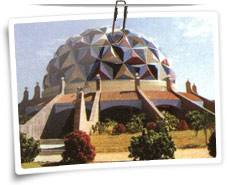 Abode Of Highest Peace
Renowned for its spiritual and cultural importance, Puttaparthi is the birth place of the divine, Sri Satya Sai Baba, who is believed to be the incarnation of Sai Baba. From the early age, Sri Satya Sai Baba had divine powers and extraordinary compassion for all. Later he claimed that he was the incarnation of Sai Baba. It is a famous pilgrimage of the Hindus. Devotees of Satya Sai Baba come to Puttaparthi from all over the world with faith in their hearts. Puttaparthi is located in the state of Andhra Pradesh.
Attractions of Puttaparthi
Sathyabhama Temple
The temple is dedicated to Goddess Satyabhama, the consort of Lord Krishna. This is the only temple in the world dedicated to the goddess Satyabhama.
Sri Raju Kalyana Mandapam
It is a holy place in Puttaparthi where Sai Baba gave dharshan to his devotees. This Mandapam was built in the year 1945. There is also a temple here, which is now used for marriages in Puttaparthi.
Anjaneya(Hanuman) Swamy Temple
Anjaneya(Hanuman) Swamy Temple is famous for a beautiful sculpture of Lord Hanumana in a cave. There is a pool at the feet of the Lord, which always remains filled with water. According to the legend the water represents the tears of the Lord.
Kalpa Vriksha or Wish Granting Tree
It is a famous attraction of Puttaparthi that is located on the banks of the river Chitravati. The literal meaning of Kalpa Vriksha is 'Wish fulfilling tree'. Devotees from far and wide come here to offer prayers. It is believed that Sai Baba used to sit under this tree and used to perform miracles.
How To Reach
By Air
There is a local airport in Puttaparthi, which connects it to Mumbai and Chennai.
By Rail
The railway station at Puttaparthi connects it to the main cities of India like Hyderabad, Visakhapatnam, Bubhaneshwar, Mumbai and New Delhi.
By Road
Puttaparthi is easily accessible from the various cities of India by road.
Accommodation
Starting fro the Star hotel to the budget hotels, Puttaparthi offers all.
Free Tour Customization
from Experts