Ex-Mumbai / Pune
Hill Stations
Karla
Karla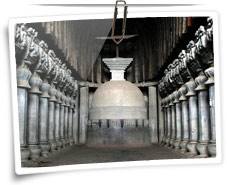 Preserving The Finest Of Buddhist Caves In India
Serving as a tribute to the Buddhism faith, Karla is the site of some of the best-preserved Buddhist caves. Built between 3rd-2nd century B.C. By the Buddhist monks, these caves are situated in the Aurangabad District of Maharashtra, quite near to the Bhaja Caves. These caves exist amidst a range of hills near Lonavala (20 km). Karla serves as a fascinating weekend destination on the Pune-Mumbai highway, approximately 40 km from the heart of Pune.
The entire region offers an isolated ambiance on weekdays and the most refreshing feature of Karla is the absence of tourist hordes, as it is quite off the tourist beaten track. The prime attractions here are the 37 pillars (built as per elegant architectural styles), which serve as the decorative elements to these caves. The architecture and the carvings of the main 'Chaitya' (chapel) hall is extraordinary in its architecture.
These Buddhist caves at Karla are one of the finest examples of ancient rock-cut caves in India.
Rock-Cut Caves
There are four patterns of Buddhist structures found in India, namely: the stupa (hemispheric funerary mounds built over the remains of Lord Buddha, and other Buddhist saints and teachers); the chaitya (large hall for congregation and worship, having a central holy image or relic in one end); the viharas (monasteries, where Buddhist monks stayed); and the rock-cut caves.
These rock-cut caves are the most interesting part of Buddhist style of architecture. Being one of the most primitive forms of Buddhist architecture, these are found in many places in India. The Sahyadri Hills and the nearby region is famous for thousands of such caves. Initially these were meant for all Buddhist communities. One can find a number of carved out replicas of stupas, chaitya halls, images and shrines inside these cave shrines.
How To Reach
By Air
Karla cave shrines are located between Mumbai (120 km) and Pune (55 km). These two major cities are well connected from almost all the important parts of the ountry.
By Rail
The local Malavli rail station (5 km south of Karla town), in Bhaja village, serves as a small halt. Besides, Mumbai and Pune are important railheads near Karla.
By Road
Karla caves can be reached after a steep climb of around 20 minutes. Buses to Karla are regularly operated from Mumbai, Pune and Lonavala.
Free Tour Customization
from Experts