Trout Fishing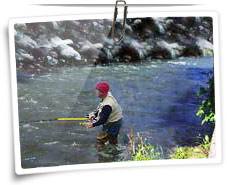 Blessed with numerous coastlines and inland waterways, India is a perfect destination for all types of angling and fishing holidays. Fishing is a great business and an adventure sports in India during spring and summer season. The 'Trout' fish were first brought to India from England in 1880. The credit for introducing the brown and rainbow trout to the streams of India and making it a hub for anglers goes to the British.
The Fishing Season
The season in Hill Stations runs from April to October. While in plains, the months from September to March are considered the best. There are a few tributaries and water channels near the mainstream beats, which provide the opportunity of fishing throughout the season.
Prime Destinations
Today, in India the sport of angling is emerging with a fast pace. Trout fishing in the rivers and ice-fed mountain streams is considered as a great sport. Mahseer, Brown Trout and Rainbow Trout are the most favourite species of fish among anglers. These are commonly found in fresh water lakes.
The most popular destinations for fishing are:
Ramganga and the Sharda rivers in north India
River Kaveri (Cauveri) in South India
Beas river in the Kullu Manali
Cold mountain streams at Larji valley, situated on the counfluence of the river Larji and Tirthan
The Sainj, a trout stream flowing on the other side of the river Larji
Dodital Lake nestled among the snow-clad peaks in the Uttarkashi Himalayas, Uttar Pradesh
The upper lakes of the Nilgiri Mountains, Mukurti and Upper Bhawani in south India
Fresh water lakes, rivers and streams in the beautiful state of Meghalaya
Water streams at the hill stations of Munnar, Kerala
Sindh and Wangat Rivers to the tranquility of the high altitude lakes Krishanshar, Vishanshar, Gangabal and Nunkhol
As per the existing Indian protection laws the fish is allowed to be caught but must be released.
Basic Equipments
For angling/trout fishing, one must carry a light-weight two to three metre Rod with an eight cm reel will suffice, hooks, line, etc. One can find a number of adventure tour operators in India that provide excellent tented accommodation facilities along with all the required equipments.
Free Tour Customization
from Experts