South India Wildlife Holidays
Biligirirangan Hills
Biligirirangan Hills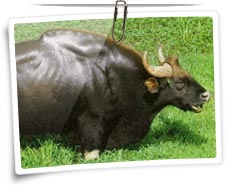 A promising place for wildlife buffs, B.R Hills Wildlife Sanctuary is situated in Karnataka. Officially called Biligiriranga Hills, the Sanctuary is a protected reserve under the Wildlife Protection Act, 1973. Its ideal location at the confluence of the Western Ghats and the Eastern Ghats make it rich in biodiversity.
Elevated at an altitude of 5,091feet, B.R Hills has a picturesque landscape. The romantic streams inside the sanctuary add more beauty to it. Sprawling over an area of 540 sq km, the Sanctuary has beautiful valleys and hills covered with deciduous forests.
Wildlife inside the Sanctuary
A variety of wildlife can be spotted here. Some of the main attractions inside the sanctuary are Gaurs, chitals, sambhars, leopards, sloth bears, Giant flying squirrel, bears, elephants, panthers and tigers. The sanctuary teems with over 254 bird species. 
Adventure Activities inside the Sanctuary
Angling, fishing, coracle boat rides, bird watching, river rafting, trekking and outdoor camping.
Best Time To Visit
Although the sanctuary is open throughout the year but the best time to visit it is from June to October.
Getting About
For exploring the sanctuary visitors can either trek up on foot or go for jeep safaris or elephant safari.
Accommodation
Well appointed tents, ethnic huts and jungle lodges are available for accommodation. And in case you are looking for a luxurious accommodation, then Maharaja's Bungalow is the best option.
How To Reach
By Air
The nearest airport is at Bangalore, 160 km off B.R Hills sanctuary.
By Rail
The nearest railhead is at Mysore (80 kms).
By Road
B.R Hills sanctuary is well connected to the nearby main cities like Bangalore and Mysore by road.
Free Tour Customization
from Experts