Ranikhet Tour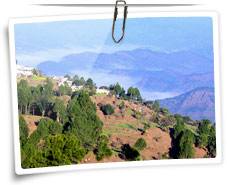 The Land Of Green Meadows
Wish to experience the real pleasure of picnic? Want to see nature and its elements in full harmony? Ranikhet is an all season destination. The hill resort of Ranikhet, at 1824 m above sea level, is located in the northern Indian state of Uttaranchal, 59 km from Nainital and 50 km from Almora. Perched on such a wonderful height, Ranikhet offers several ventage points for panoramic vistas of Himalayan peaks including the Nanda Devi group.
Tourists flock to Ranikhet in heavy numbers because it serves as a gateway to various exciting treks into the Himalayas. The destination famous for its ancient temples, picturesque picnic spots, splendid strolls and the exciting treks. With a well maintained 9-hole golf course, Ranikhet is a paradise for golfers as well.
Origin
As the legend goes, Rani Padmini, queen of Raja Sudhardev, was highly impressed with the natural beauty of the destination. Therefore, she decided to make it her abode. Since then, it has come to be known as Ranikhet, literally "Queen's Meadow".
Fairs and Festivals
Nanda Devi Mela
This fair is known for its religious and cultural significance. Organized at Nanda Devi Temple in the month of September, the fair is said to have started during the reign of Raja Kalyan Chand in the 16th century. Dedicated to Goddess Nanda Devi, the fair is believed a symbol of prosperity and well being. The fair is also organized at Almora, Nainital, Nauti, Dandidhara and Munsyari.
Besides, Syaldeh Bikhoti Fair (organized from 13th to 15th April every year at Dwarahat, 37 km) and Maha Shivaratri Fair (at Bhikiasain, 55km) are the two other major celebrations of Ranikhet.
Pilgrimages
Jhoola Devi Ram Mandir
7 km from Ranikhet on the way to Chaubatia; devoted to the Goddess Durga and Lord Rama.
Naithna Devi
54 km from Ranikhrt; devoted to Goddess Durga.
Binsar Mahadev
19km from Ranikhet, on the way to Ramnagar; dedicated to Lord Shiva; a perfect place for meditation and picnic.
Hairahan Temple
4km from Ranikhet; dedicated to Baba Hairakhan; offers splendid views of the Himalayas.
Other Attractions
Upat and Kalika
Upat draws thousands of tourists from the world around to its 9 hole golf course. Kalika, 1 km from Upat, is frequented because of the temple of Goddess Kali. It has a unique and varied forest nursery as well.
While on a trip to Ranikhet, one can also visit Chaubatia (10km, orchard country), Majkhali (13km, snowy heights), Chaukhutia (fishing centre), Manila (87km, the seat of Manila Devi- the family Goddess of the Katyuri clan), etc.
Where To Stay
Ranikhet is a major hill station in India. It offers a number of accommodation units ranging from budget hotels to star-rated/luxury hotels and cottages. Apart from that, one can find several Government run hotels and resorts in Ranikhet.
How To Reach
By Air
The nearest airport happens to be at Pant Nagar, at a distance of 114 km.
By Rail
The nearest railhead for Ranikhet is Kathgodam, at a distance of 84 km.
By Road
Bus service is available from Ranikhet to Delhi (386 km), Nainital (59 km), Almora (49 km), Kathgodam (80 km) and Kausani.
Ranikhet, comprising heavenly Himalayas, their lush green forests, majestic mountain peaks, exotic plant life and attractive wild life, is a must visit destination.
Free Tour Customization
from Experts