Maheshwar Tour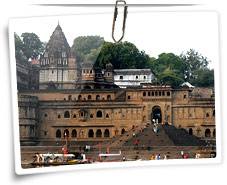 Located in the majestic state of Madhya Pradesh on the banks of river Narmada, Maheshwar is a sacred town dotted with captivating temples dating back to the 18th century. The architectural beauty of these temples leave the visitors enchanted. The town of Maheshwar is also famous for its elegant saris. The town of Maheshwar finds mention in the Great Hindu Epic Mahabharata and Ramayana.
Attractions of Maheshwar
The towering temples of Maheshwar are well known for their superbly worked doorways and overhanging balconies. Some of the famous temples of Maheshwar are  the Kaleshwar temple, Rajaraheshwar temple, Vithaleshwar temple and Ahileshwar temple. Other striking features of Maheshwar are its ghats, which have the stone memorials to all the women who ever committed sati here. The Kashi Viswanath temple is dedicated to Lord Shiva and was built by Rani Ahalyabai of the Holker dynasty. This temple is an architectural gem, which must be visited on your tour to Maheshwar.
Maheshwar Fort
Maheshwar Fort is one of the must-see attractions of Maheshwar. The complex of the fort houses a beautiful statue of Rani Ahalyabai seated on her throne. The queen contributed a lot in making Maheshwar peaceful. She built several temples in the town . Another attraction in the fort which draws attention is the archaeological museum, which houses a rare collection of the possessions of belonging t the Holkar Dynasty. The festival of Dusshera is celebrated with great enthusiasm in the fort every year. The fort was built by the Emperor Akbar in 1601.
The Ghats
Do visit the ghats of the Narmada river and take a dip for a refreshing experience. There are numerous temples located on the banks of the river.
Navdatli, the archaeological site
Navdatli is an important attraction of Maheshwar located on the southern bank of  Narmada river. This site hold sheer historic and archaeological importance.
Maheshwari Saris
The beautiful and elegant cotton saris available in Maheshwar are popularly knwn as Maheshwari saris. They are known for their high quality.
How To Reach
By Air
The nearest airport is located in Indore, which is located at a distance of 91 km from Maheshwar town.
By Rail
The main railway station is at Indore.
By Road
The town of Maheshwar is well connected with the mian cities of Madhya Pradesh by road.
Accommodation
Decent hotels are available in Maheshwar providing good facilities and services. The best one is the Narmada Resort.
Free Tour Customization
from Experts