Ex-Mumbai / Pune
Hill Stations
Panchgani
Panchgani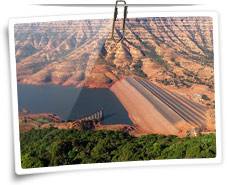 A Perfect Tourist Delight
A horse ride through the lush greenery, thick foliage and the deep caves is the best way to explore the idyllic mountain retreat in the Krishna Valley- 'Panchgani'. This renowned hill station derives its name from the five ('Paanch' in Hindi) hills that provide a marvellous background to the scenic locations. Situated at a distance of approximately 18 km from Mahabaleshwar, it serves as one of the most preferred weekend destinations near Mumbai Mumbai (about 250 km) and Pune (about 120 km).
Panchgani exactly lies in the Satara district of Maharashtra (on the highway to Mahabaleshwar from Pune) and is located at a height of about 1334 m above sea level. Being located at such an altitude, Panchgani offers wonderful opportunities for adventure activities like trekking.
Tourist Attractions
One can visit several viewpoints at Panchgani like Apex Point, Baby Point, Grover Point, Kachhawari Point, Parsi Point, Sydney Point etc. These viewpoints offer marvellous sight of the landscapes and rich flora along side the Krishna River.
Long walkways, through the woods, thickly canopied by lush trees and vegetation, prove to be a fun element to tourists at Panchgani. These walkways are the best way to explore river Krishna, tiny hamlets, farms and ravines. These walkways can also lead you to the Table Land, a flat mountain peak where you can feast your eyes on the coastal plains, looking like miniature water-colours.
Tapola is also a highly frequented place, which is popular among tourists as a water sports centre.
Panchgani was earlier used as a summer resort by the British officials. Today, September to May is considered the best time to visit this hill resort.
Shopping
Panchgani markets are loaded with fruit crushes, fruit drink concentrates, jams and sweets.
How To Get There
By Air
Pune is the nearest airport.
By Rail
Nearest major railhead is again Pune, which is connected to almost all the major parts of the country.
By Road
Panchgani is 18 km from Mahabaleshwar and is easily accessible by buses or private taxis from Mumbai and Pune.
Free Tour Customization
from Experts