South India Wildlife Holidays
Wayanad
Wayanad Wildlife Tour
The Wonderful Blend Of Natural Beauty And Wildlife!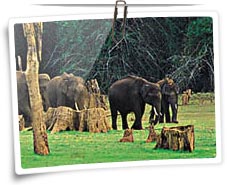 Located in the enchanting state of Kerala, Wayanad Wildlife Sanctuary is endowed with gorgeous green forests and a variety of wildlife. It is a home to even some endangered species of flora and fauna, which makes it famous with tourists coming to Kerala. Its foundation was laid in 1973 with an aim to conserve wildlife in their natural habitat. It is a part of the Nilgiri Biosphere Reserve. It comes under Protect Elephant scheme. Elephant sighting is quite common here. The sanctuary is surrounded by Nagarhole and Bandipur national parks in the northeast and Mudumalai wildlife sanctuary in the southeast. It is the second largest wildlife sanctuary of Kerala.
The main portion of the vegetation of the sanctuary consists of moist deciduous forests. The sanctuary also has semi-evergreen trees and coffee and rubber plantations. If you are inclined towards trekking, then trek to the Chembra Peak, which is the highest peak in Wayanad( 2100 m above sea level).Camping facility is provided at the peak. It offers mesmerizing views of the surroundings.
Wildlife inside the Sanctuary
The sanctuary provides shelter to wildlife such as tigers, leopards, sloth bears, wild dogs, jackals, Indian foxes, civet cats, monkeys, wild dogs, bisons, deer, snakes, monitor lizards, gaur, sambar, mongooses, jungle cats, squirrels and hares. It also houses birds like peacocks, babblers, cuckoos, owls, woodpeckers and jungle fowls.
Best Time To Visit
From June To September
Accommodation
Comfortable and decent accommodation options in the form of Forest rest houses and lodges are available near the sanctuary.
How To Reach
The nearest airport is Kozhikode- CCJ, 140 km off the sanctuary.
By Rail
Kozhikode-CLT is the nearest railway station, 105 off the sanctuary.
By Road
Wayanad Wildlife Sanctuary is well connected to the main cities of Kerala by road and is easily accessible from every corner of the state.
Free Tour Customization
from Experts