Gokarna Tour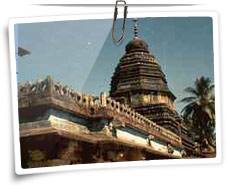 The Land Of Liberation
Celebrated as a famous Hindu pilgrimage and as an important Sanskrit learning center, Gokarna occupies a prized place on the travel map of Karnataka. Located in the captivating state of Karnataka on the banks of Arabian Sea, Gokarna literally means 'the ear of a cow'. There is a legend associated with this holy place, which goes that it is at this place where Lord Shiva emerged from the ear of a cow. This sacred place finds mention in the great Hindu scripture named Gokarnam Purana. In the scripture Gokarna has been described as the place of liberation. Gokarna is considered to be one of the seven Mukti Sthalas of Krnataka. Gokarna is also famous for its wonderful beaches and scenic beauty.
Attractions of Gokarna
Mahabaleshwar Temple
The Mahabaleshwar Temple is the greatest of all attractions in Gokarna. It is an ancient temple dedicated to Lord Shiva. The temple is held in high esteem by the Hindus and is often called the Dakshina Kashi, as it considered as sacred as the Vishwanath Siva Temple in Varanasi(one of the holiest cities in India). The temple  enshrines the Aatma Lingam of Lord Shiva, which is six feet in height and is approximately 1500 years old. The Shiva Lingam, encased in a square Saligrama Peetham, can be seen only once in 40 years, when the Ashta bandana Kumbhahishekam is performed. According to the ritual here one must take a bath in the sea here and then worship a Shiv Lingam made out of sand, before they go for puja at the Mahabaleshwar Temple. The festival of Mahashivratri is celebrated with great fervor at the temple.
Kudle Beach
Located at a walking distance from Gokarna, the Kudle Beach is a fabulous place to spend some time with nature. The white sand, swaying palm trees, the smiling Sun and the mesmerizing waves here welcome you to have a great experience. The beach also has some eating joints to cater to your taste buds.
How To Reach
By Air
Dabolim in Goa is the nearest airport located at a distance of 140 m from Gokarna. It connects Goa to both domestic and international cities. Bangalore is the main International airport (475 km).
By Rail
Ankola is the main railway station near Gokarna(20 km ).
By Road
Gokarna is easily accessible from the neighboring cities such as Madgaon, Mangalore,Dabolim and Bangalore by road.
Accommodation
Tourist can choose from a variety of hotels in Gokarna. Some of the famous accommodation options here are the Ganga Beach Resort, Seabird Resort, Hotel Gokarna International and Nimmu House.
Free Tour Customization
from Experts