Konark Tour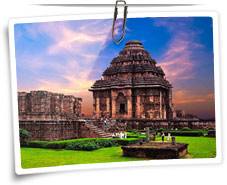 Distinguished for its architectural wonder, the Sun Temple, Konark is a small town in the Puri district of Orissa. There are several temples in the town but the architectural beauty of the Sun Temple is simply unparalleled. Located on a sea shore, Konark not only offers peace but also scenic beauty. The term Konark originated from ' Kona' and 'Arka', meaning 'Corner' and 'Sun' respectively. The Konark Beach at Konark offers mesmerizing views of sunsets.
Attractions of Konark
The Sun Temple
The Sun Temple of Konark is the most notable attraction of Konark. The temple is dedicated to Lord Surya(Sun) and was constructed by King Narsingha Deva in 1250 AD. The impressive carvings and sculptures of the temple will surely leave you in awe. The shrine of the temple has been fashioned in the shape of a chariot, which sits smug on the exquisitely carved twelve pairs of wheels. And the chariot is drawn by the seven horses. There is a unique feature about the wheels. There are eight spokes on each wheel, which serve as sundials. Exact time of the day can be found out by closely examining the shadows made by these sundials. The Nat Mandapa or the Dancing Hall in the temple have carvings depicting figures of the deities, human beings and animals.
The Sun Temple is considered one of the largest temples in India. Surrounded by sand, the temple used to be called as 'Black Pagoda' by the sailors during the ancient times. The reason being that the magnetic spire of the temple would attract the ships to the shore causing shipwrecks. The completion of the temple took around 16 years.
Konark Dance Festival
It is one of the most famous dance festivals of India. Wonderful dance performances such as Orissi, Bharatnatyam, Kathak, Kuchipudi and the local Chhau dance are held during the festival.
Maha Saptami Mela
Held on the banks of the Chandrabhaga River, Maha Saptami Mela is held with great enthusiasm in Konark. It is believed that a dip in the river can cure many ailments.
How To Reach Konark
By Air
The nearest airport is at Bhubaneshwar, connecting Konark with cities like Delhi, Kolkata, Hyderabad and Chennai.
By Rail
The railway station at Konark connects it to the major cities of the country.
By Road
The state and the national highways make Konark easily accessible from the cities of Orrisa and its neighboring states.
Free Tour Customization
from Experts