Himachal Pradesh
Renukaji
Renukaji Tour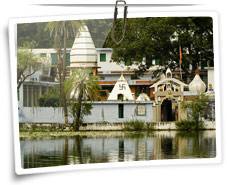 Holding immense historic and mythological importance, the Renuka Ji Lake is regarded as the embodiment of Renuka Ji. Renuka Ji was the consort of the sage Jamadagini and the mother of Parshuram, one of the ten avatars of Lord Vishnu. Considered holy, the Renuka Ji Lake is fashioned in the form of a woman. It is the largest natural lake in the state of Himachal Pradesh. Fed by the underground springs, the Lake is surrounded by the mesmerizing hills and forests. The lake is a home to a variety of flora and fauna species. Boating facilities are also offered at the lake. Trekking is another adventure activity which can be enjoy here.
There is a legend associated with the Renuka Ji Lake, which goes that when the demon Sahasarjuna killed sage Jamadagini and tried to abduct the sage's wife Renuka Ji, she threw herself in the waters. The heavenly deities saved her life and since then the lake is considered to be her embodiment.
Another attraction here is the Parashurama Tal(a huge pool) located at the base of the Renuka Ji Lake. It is believed that the Tal is the embodiment of Parashurama who respected and loved his mother so much that he wished to spend eternity at her feet. It is said that both the mother and the son are reunited at the annual Renuka Ji Fair. The Renuka Ji temple here was built overnight in the early 19th century.
Nearby Attraction
Dedicated to the tenth Sikh Guru, Guru Gobind Singh, the Paonta Sahib gurudwara is loctaed 60 km from Renukaji Lake. The Guru lived in this Gurudwara for around four years. The Gurudwara is set amidst picturesque location.
How To Reach
By Air
The nearest airports are located at Chandigarh(95 km) and Dehradun(126 km).
By Rail
The nearest railway stations are located at Ambala, Dehradun and Chandigarh.
By Road
Renukaji Lake is easily accessible from the major cities of India by road.
Accommodation
Ranging from the deluxe hotels to economy hotels, all are available in Renukaji. Tourists can also opt for the forest rest houses.
Free Tour Customization
from Experts