Kanyakumari Tour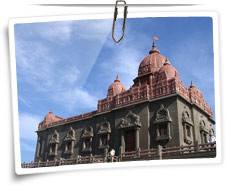 The Versatile Land
Kanyakumari, a town known for its art, culture, pilgrimage and sheer natural beauty, is a tourist destination truly worth a visit. The moment you step into the land of Kanyakumari, you can feel its peaceful and blissful aura. Kanyakumari is located at the southernmost point of Peninsular India and is the meeting point of three huge water bodies- the Bay of Bengal, the Arabian Sea and the Indian Ocean. The natural beauty of Kanyakumari encompasses mesmerizing views of sunrise and sunsets, the beach with multicolored sand and the refreshing environment. It is believed that the multi-colored sands of the Kanyakumari beach are the remnants of the wedding feast of the Goddess.
Best Time To Visit
From October to March
Attractions of Kanyakumari
Kanyakumari Temple or Kumari Amman Temple
It is a beautiful temple ideally located on the sea shore, at the meeting point of the three water bodies- the Arabian Sea, the Indian Ocean and the Bay of Bengal. The temple is dedicated to Goddess Kamakshi, the virgin goddess who did penance to obtain Lord Shiva's hand in marriage. The Sanctum of the temple houses Sri Chakra, which was enshrined by the sage Adi Sankaracharya. The temple has fascinating mandaps, pillars and a beautiful Vimanam. The famous festivals celebrated in the temple are the Silver Chariot festival, Navaratri, Aadi and Aippasi Pooram. The sparkling diamond nose-ring of the goddess looks awesome.
Temple Of Goddess Bhagavathi
The beauty of this temple attracts many a tourist from across the world. It is believed that it was built by the first Pandyas and later new structures were added to it by the Nayaks.
Vivekananda Rock Memorial
Highly honored by the devotees of Swami Vivekananda, the Vivekananda Rock Memorial is the holy place where Swami Vivekananda meditated and attained enlightenment. He was a great sage who devoted his life for the happiness of humanity. This site not only offers peace but also sheer natural beauty.
How To Reach
By Air
The nearest airport is at Trivandrum. The regular flights connect Trivandrum to the main cities of India like Mumbai, Bangalore, Cochin and Delhi.
By Rail
Kanyakumari is easily accessible from the main cities of South India by rail.
By Road
Kanyakumari is well connected to South Indian cities like Trivandrum, Nagarkoil, Tirunelvelli and Madurai by road.
Accommodation
A wide variety of hotels are available in Kanyakumari. However, the Cape Residency Hotel and Star Hotel Singaar International are the famous ones.
Free Tour Customization
from Experts