India Paragliding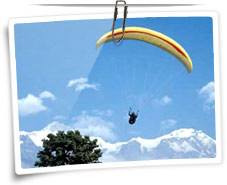 Fulfill Your Dream To Chirp And Fly Like Birds
The fascinating sport of Paragliding, is one of the most popular aero-sports all over the world. The sport is a perfect blend of hang gliding and parachuting. One has to run down a hill with the entire setup of the glider, and then fly and climb in the rising air currents. Parachuting is the activity of floating down to the ground but paragliding is the activity to take you high in the sky by using exactly the same aerodynamic effects that keep aeroplanes flying. However, unlike an aeroplane, the beautiful thing about a Paraglider is that you don't require an engine to stay in air.
The Paraglider canopy (aerofoil) is actually a wing, which is a little bit similar in looks to a parachute. The best part with paragliding is that one can fly in the air without the aid of an engine. Even if the wind stops, the paraglider will continue flying normally and will gradually glide down to the ground. This aerosport is a true experience of free flight, without any engine and noise. Enjoy your flight with bright sun and the wind.
Paragliding is classified as Short Flying and High Flying. The equipment used is much lighter and the sport is easier to learn as well.
Prime Locations For Paragliding
The Great Himalayan Region (Along With Himachal Pradesh & Uttaranchal)
This biggest mountain range in the world offers challenging conditions to all the flying lovers. The Himalayan region of Ladakh and Zanskar are known for rough weather where the winds are unpredictable and sandstorms blow up within minutes. Therefore, beginners are not advised to try out paragliding here. Even experts go for paragliding in these regions with heavy-duty safety gears.
Towards the lower Himalayas, the states like Himachal Pradesh and Uttaranchal are perfect sites for paragliding. Billing, Kullu, Solang Valley, and Lahaul & Spiti are the favourite destinations of paragliders in the state of Himachal Pradesh. Apart from that, Naukutchiyatal in Nainital, Dayara Bugyal in Garhwal, Dhanolti Ridge in Garhwal and Bedni Bugyal in Kumaon are other frequented regions.
Coastal Regions
Coastal flying is best offered in north Goa, Rantnagari and other smaller seaside villages on the western coast. These regions are known for cool sea breeze, which is best suited for a smooth flying. At the bottom of the Indian peninsular, Ooty and Kodaikanal are the ideal destinations for this adventurous sport.
Rajasthan
The desert land of Rajasthan organizes wonderful paragliding sports with permission from civil aviation authorities. Cities like Jaipur, Jaisalmer, Jodhpur, Udaipur and Bikaner are quite popular for this aerosport.
Maharashtra
The climate of the entire Western Ghat hill range is ideal for paragliding. Matheran, Deolali, Mahabaleshwar, Singhgad and Panchgani are the popular flying areas in the state of Maharashtra.
Paragliding was introduces to India in the late 1940s, but it emerged as an adventure sport after 1980s.
Ideal Time
April to June and September to November is considered the best suited time for paragliding.
Free Tour Customization
from Experts