South India Wildlife Holidays
Coorg
Coorg National Park
Coorg as a wildlife destination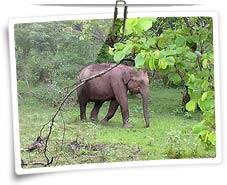 Coorg is the perfect choice for those who have deep inclination towards wildlife. The dense green forests of Coorg shelter a diverse array of wildlife species, including some rare species.
Wildlife Destinations In Coorg
Nagarhole National Park
Established in the year 1955, the Nagarhole National Park is one of the most famous National Parks of South India. The Park got its name from the number of streams passing through it. Embark on the jungle safari in the Park and enjoy the sights of wildlife species such as elephants, tigers, panthers, rhinos, wild elephants, gaurs, deers, wild dogs, macaques,Malabar pied hornbill, pangolin and langurs.
Located ideally at the foothills of the Brahmagiri hills, Nagarhole National Park covers an area of 640 sq km. The land of the Park s characterized by thick tropical forests, grassy swamps, rivers and streams. The rivers and streams in the Park offer great chances of wildlife sighting.
The Park also boasts of around 250 avian species such as Malabar trogan, the Indian Pitta, green imperial pigeon the Malabar pied hornbill and the great black woodpecker.
Best Time To Visit
From October to April
Brahmagiri Wildlife Sanctuary
Located in the beautiful Coorg district of Karnataka, the Brahmagiri Wildlife Sanctuary is separated from Nagarhole National Park by a stretch of coffee plantation. The sanctuary derived its name from the fascinating Brahmagiri peak towering to a height of 1607 m. The vegetation of the sanctuary consists of Evergreen and Semi Evergreen Forests.
Brahmagiri Wildlife Sanctuary pleases its visitors with the breathtaking sights of wildlife species such as Nilgiri langur, Malabar Giant Squirrel, Lion Tailed macaque, Bonnet macaque, Giant Flying Squirrel, Sloth bear, Barking deer etc.
Best Time To Visit
From October to May
Pushpagiri Wildlife Sanctuary
Sprawling over an area of 102 sq km, the Pushpagiri Wildlife Sanctuary is located near Mandalpatty in Coorg. Some of the inhabitants of the sanctuary are elephants, leopards, wild pigs, spotted deer, sambar, barking deer, jungle cats, Small Indian civet, common palm civet, porcupine, hare, common mongoose, mouse deer etc.
The best time to visit the sanctuary
From November to March.
Free Tour Customization
from Experts